Iran
North America
Iran Blasts Silence of Western Gov'ts on Brutal Suppression of Protests in US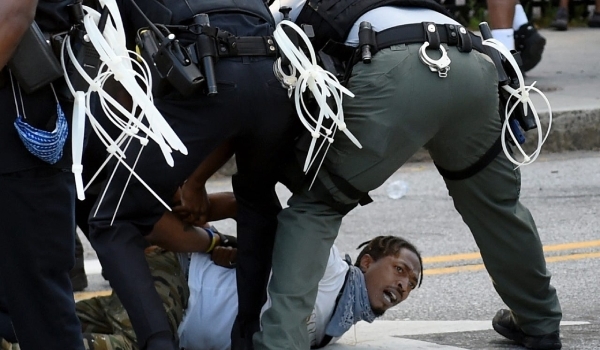 The Iranian foreign ministry lashed out at the western states for forgetting their human rights slogans and keeping mum on the savage suppression of protestors in the US.
"Despite cruel murder of another black man and days of brutal suppression of protests in the US, western governments keep silent, and forget their human rights fever," the foreign ministry wrote on its official twitter page on Tuesday.
It added that if such a brutal behavior was shown towards the protestors in a non-Western country, the western governments would surely made hues and cries about it.
"No, this is not whataboutism, but just a mere fact-recounting," the foreign ministry underlined.
Earlier today, Iran's Judiciary Chief Seyed Ebrahim Rayeesi said that the current protest rallies in different US states will end the life of the hegemonic system.
"Today, the hegemonic system should account for its crimes before the world public opinion," Rayeesi said on Tuesday.
He expressed confidence that innocent people's blood shed by the American regime in and outside the United States "certainly sparks (unrests) and will entangle the US and the hegemonic system in fire, and their fate will be condemnation and annihilation".
Rayeesi called on the world human rights and legal bodies to show reaction to the US crimes against its people and the world nations, stressing the need for putting the American statesmen on trial.
Protests erupt for a 7th day across the US over the death of George Floyd, an unarmed black man, at the hands of a police officer in Minneapolis, Minnesota.
At least 40 cities have imposed curfews and National Guard members have been activated in 15 states and Washington, DC.
One former officer, who was seen with his knee on Floyd's neck, was charged with third-degree murder and manslaughter but protesters say the charge isn't harsh enough, and are demanding charges for the other officers involved.
Law enforcement officers fired tear gas in front of the White House to clear the area for the US president to travel on foot to visit the nearby St. John's Church.