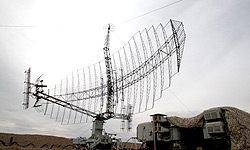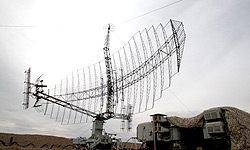 Iran plans to deploy new long-range radar systems in the next few months, a senior Iranian air-defense commander announced on Monday, adding that the radars will cover a range of 3,000 km.
"Long-range air defense radar systems will be deployed in operation zones next (Iranian) year (starting on March 21)," Lieutenant Commander of Khatam ol-Anbia Air Defense Base for Operations Colonel Abolfazl Farmahini told FNA.
The commander added that these home-made radar systems will be handed to the country's air defense unit after going through the necessary tests.
"Once these tests are carried out, these long-range radars will be put into operation in the air defense base," Farmahini noted.
"The radars cover a range of 3,000km and there will be some secondary and complementary radar systems to cover those parts of the country's air space that are not covered by these main (long-range) radars," the commander concluded.
In November, former Commander of Khatam ol-Anbia Air Defense Base Brigadier General Ahmad Miqani announced that the country's experts were boosting the range of home-made air defense radar systems to 3000km.
"Iran is working on a radar system that can cover areas within a range of 3,000 km," Miqani said, adding that the system would enable the country to identify all flying objects around the country.
In December, Lieutenant Commander of Khatam ol-Anbia Air Defense Base General Hamid Arjangi told FNA that the development of the country's new generation of long-range radar systems was in final stages, and said the system would detect all flying objects within a range of 3,000 km.
"Infrastructural measures and specification of the location for these radars have already been done and the final stages of preparing these systems are underway," Arjangi said at the time.
Arjangi also said that in addition to its 3,000km range, the system is adjustable in terms of altitude based on the needs felt by any given air defense unit.
He added that the radar would monitor all aircraft flying towards Iran from distances farther than Qatar or Afghanistan.
Iranian officials have announced that the country has now reached self-sufficiency in producing radar systems in different frequencies and for various ranges.