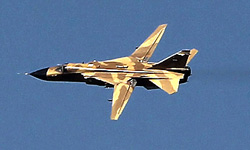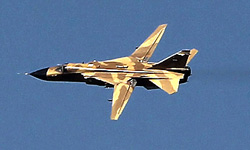 A senior Iranian Air Force commander announced on Monday that the Iranian experts have successfully revived the capabilities of the country's strategic Sukhoi-24 aircraft, including its laser missile capabilities.
Our experts have revived important capabilities of Sukhoi-24, including its laser missiles, radar-guided air-to-ground missiles and long-range missiles," Lieutenant Commander of the Iranian Air Force for Operations General Seyed Mohammad Alavi told FNA.
"Recently, the aircraft's laser missiles in a successful test-fire hit the target with zero-zero error," Alavi added.
He further said that the Islamic Republic of Iran Air Force (IRIAF) plans to test-fire the aircraft's long-range, radar-guided high-precision missiles in the near future.
"A number of high-precision television guided missiles of the fighter jet have already been tested and yielded good results," the commander noted.
Last week, IRIAF displayed a wide range of its operational fleet, including its strategic fighter jets, in an air show to be held during the annual military parades.
In August 2010, the Iranian Army equipped its fleet of Sukhoi SU-24s with newly developed night operations systems enabling the fighter jets to accomplish missions at nights.
"Sukhoi fighter jet has been optimized by the Army Air Force experts and now has the capability to hit and destroy targets with high precision in absolute darkness," Alavi told FNA at the time.
Also in August, a senior Iranian commander announced that the country's Air Force had equipped all its fighter jets with new radar systems and electronic devices to improve their performance in night operations.
"New electronic and radar systems have been used by the Air Force for night flights," General Amir Hossein Chitforoush told FNA at the time.
"These systems were upgraded and optimized during the last year and we are using them now," he added.
Chitforoush further explained that night flights, combats and bombardments are carried out in absolute darkness and merely with the help of highly advanced radar systems, thus, to conduct night flights and bombardment, the country's fighter jets should still be equipped with more upgraded equipment and systems.