Iran
Iran buries martyrs as anti-rioting rallies expand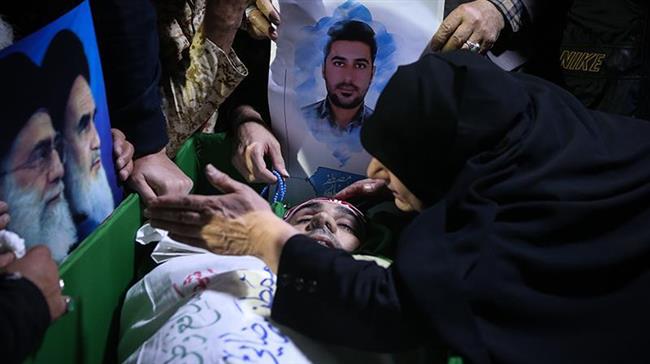 Iranians lay to rest a serviceman and a civilian martyred recently at the hands of rioters as demonstrations expand nationwide in condemnation of the agitators working to sow unrest in the country under the pretext of protest against fuel price hikes.
The burial procession and a subsequent interment ceremony took place in Tehran Province's Malard County on Wednesday, IRNA reported. The attendees bade farewell to martyrs Morteza Ebrahimi, one of the commanders of the Islamic Revolution Guard Corps (IRGC)'s Imam Hossein Battalion in the county, and Mostafa Rezaei, an employee with Malard's Municipality.
Elsewhere in the country, people rallied in the city of Gorgan, the capital of northwestern Golestan Province, to voice outrage against the anarchists, according to Tasnim News Agency.
They shouted slogans against the United States and Israel, and expressed resentment at those defying the country's Islamic establishment.
The demonstrators also asserted their allegiance to Leader of the Islamic Revolution Ayatollah Seyyed Ali Khamenei and the entire establishment.
People also marched across Khorramabad, the western Lorestan Province's capital, and the northwestern city of Ardabil in support of the government and against the agitators.
Iran's northern Alborz Province is to host similar rallies on Thursday.
The government raised gasoline prices last week in order to moderate the national consumption rate, which stands at 110 million liters, 40 million liters above the maximum domestic requirement.
The move prompted some peaceful protests, but riotous elements, abusing the situation, quickly entered the scene, destroying public property, setting ablaze banks and gas stations among other facilities, and opening fire on people and security forces.
Among the rioters were anarchists with links to the notorious US-backed Mujahedin-e-Khalq Organization (MKO) terror group, according to reports.
There have been reports of fatalities among both security forces and civilians in different locations, with an official tally available yet.
According to Fars News Agency, the violence saw rioters setting fire to as many as 80 department stores across the country, incurring a damage of 170 billion tomans (more than $40 million).
The damage has wrecked between 50 to 100 percent of the facilities' structures, with the anarchists either looting the stores before setting them ablaze or setting fire to entire facilities and their supplies.
On Saturday, US Secretary of State Mike Pompeo voiced outright support for the acts of violence, reiterating Washington's claim that "the United States is with you."
Various Iranian officials have condemned the remarks as reprehensible and duplicitous.
Anti-violence rallies bubbled away over Monday and Tuesday in the northwestern East Azerbaijan and Zanjan Provinces as well as the southwestern province of Chaharmahal and Bakhtiari, Mehr News Agency reported.