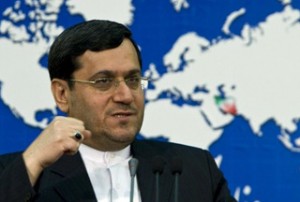 Tehran has called 'surprising' an EU statement over the trial of British and French embassy staff allegedly involved in Iran's post-vote riots.
The European Union's Swedish presidency on Saturday had criticized Iran for putting on trial the embassy staff of two member states of the 27-strong bloc.
"The presidency expresses its concern over the ongoing trial in Tehran in the aftermath of the election, including against two EU member states' embassy employees and one EU citizen," the statement said.
Foreign Ministry Spokesman Hassan Qashqavi said in a late Sunday televised program that the EU statement lacked legal basis as the trial of the staff and the citizen was being carried out 'in accordance with the international law'.
Qashqavi also said Iran reserved the right to put the three on trial in order to prevent interference in its domestic affairs.
He also reacted to a part of the statement which said that "action against one EU country, citizen or embassy staff is considered an action against all of the EU." Qashqavi said such approach surely amounted to 'capitulation'.
On Saturday, Iran held the second hearing in the trial of those allegedly involved in post-vote riots including the local British Embassy staff, Hossein Rassam, and Nazak Afshar, a French Embassy employee. Also present in the court was Clotilde Reiss, a female French teacher, who was detained on espionage charges following the presidential election.
Iran accuses Western countries in particular the US and Britain for instigating the post-election protests in the country, calling on them to adopt a policy of non-interference towards the country.