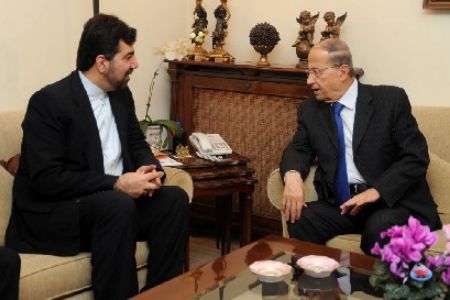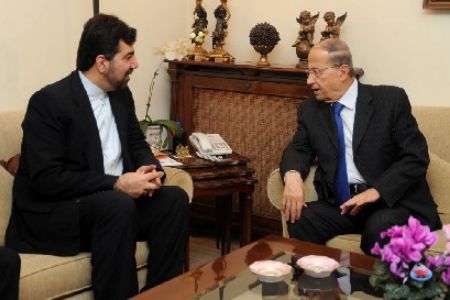 Iran's ambassador to Lebanon has stressed the need for "national unity among Lebanese groups" in the face of the political turmoil in the Mediterranean country.
Ghazanfar Roknabadi made the appeal during a meeting with leader of the Free Patriotic Movement, Michel Aoun, in Beirut on Wednesday.
Lebanon has been the scene of a political crisis triggered by the US-backed Special Tribunal for Lebanon (STL) probing the assassination of former Lebanese premier Rafiq Hariri, who was murdered in February 2005, along with 22 other people, in a massive bombing attack in downtown Beirut.
The US-sponsored tribunal is reportedly about to indict some Hezbollah members in the Hariri murder case — an allegation which has been vehemently rejected by the Lebanese resistance movement.
Hezbollah Secretary General Seyyed Hassan Nasrallah has described the STL as part of "dangerous projects" that are targeting the resistance movement.
Lebanon's political standoff further intensified last week when Prime Minister Saad Hariri's national unity government collapsed after the resignation of 11 Hezbollah-affiliated ministers.
Roknabadi and Aoun, who leads the opposition March 8 coalition, also discussed "regional issues and latest development of Lebanon."
After the meeting, the Iranian envoy told reporters that dialogue and national unity would help end the ongoing political crisis and achieve stability in the country.
"Recent developments proved our position that Israel and those collaborating with it, especially the United States, do not want stability in the Middle East, and in Lebanon in particular," he noted.
The envoy further recalled how Syria and Saudi Arabia embarked on "strenuous negotiations" to prevent Lebanon from plunging into a political crisis on the back of such indictments, and how the effort was stymied by the US.
"We should learn from Israel's actions in obstructing the Saudi-Syrian initiative and cooperate now more than ever," Roknabadi concluded.