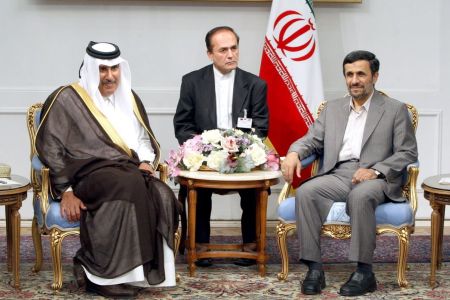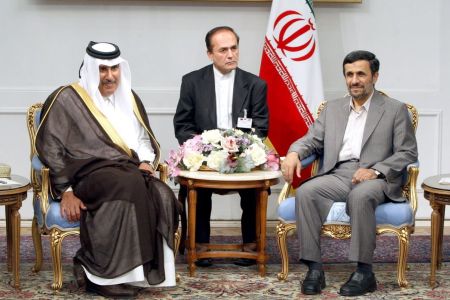 Iranian President Mahmoud Ahmadinejad has called on regional countries to expand their cooperation in an effort to thwart plots by foreign powers to manipulate regional events.
"Iran defends the territorial integrity and sovereignty of all regional countries, especially those in the Persian Gulf region," the President said in a Thursday meeting with Qatar's Prime Minister and Foreign Minister Sheikh Hamad bin Jassim bin Jabor Al-Thani.
"If anyone wages a war on regional countries, Iran will stand, with all its might, by the counties and brothers in the Persian Gulf region," said President Ahmadinejad, as quoted in his official website.
The president reiterated that all problems in the region should be resolved through consultations among regional countries.
He noted the western countries want to create obstacles in the way of development of other countries by imposing sanctions and threatening them.
The Qatari prime minister, for his part, said that Doha supports Tehran's positions on regional and international issues.
Al-Thani also backed Iran's nuclear program, saying: "It is clear for Qatar that the development of Iran's nuclear technology is no threat to the regional countries."
Praising Tehran Declaration signed by Iran, Brazil and Turkey on a nuclear fuel swap arrangement, the top Qatari official said that his country supports the resumption of nuclear talks based on the declaration.
Iran, Brazil and Turkey drew up the declaration in May as part of trilateral efforts to resolve Iran's stand-off with the West over its nuclear program.
Under the declaration, Tehran agrees to send some 1,200 kg of its 3.5-percent enriched uranium to Turkey in exchange for 120 kg of 20-percent enriched fuel.
The declaration received a warm welcome from different heads of states and international organizations, including UN Secretary General Ban Ki-moon.
Additionally, 118 members of the Non-Alignment Movement have thrown their weight behind the trilateral nuclear fuel swap declaration and voiced support for the Islamic Republic's "inalienable rights" to peaceful nuclear activities.
However, Western countries, led by the US, cold-shouldered Tehran's confidence-building measure and instead imposed new round of sanctions on the country.
Iranian officials insist that they will use the US-led sanctions as an opportunity for further developing the country's industries and will make sure that all countries going along with the anti-Iran sanctions will regret their decision.