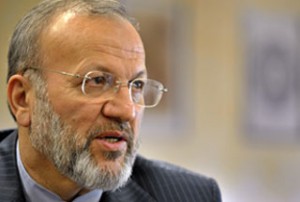 Iranian Foreign Minister Manouchehr Mottaki has advised the countries that supported a recent anti-Iran IAEA resolution to make up for their "mistake."
Mottaki said on Saturday that the recent resolution against Iran was a "tactical mistake" and the West needed to set it right, IRIB reported.
"Those countries that voted 'yes' to the resolution against the Islamic Republic of Iran still have time to make up for their mistake and return to the right path."
Last Friday, the International Atomic Energy Agency (IAEA)'s Board of Governors passed a new resolution against Iran over the construction of its Fordo enrichment plant, located outside Tehran.
While resolutions passed by the Board of Governors generally focus on technical issues — as opposed to political ones — and are usually either passed or rejected unanimously, the last week resolution failed to win the support of ten member states.
Malaysia, Venezuela and Cuba voted against the resolution. Among those that voted yes were Russia and China. The move was surprising in light of the voting history of the two veto-wielding powers, who have repeatedly supported a peaceful solution to Iran's nuclear issue.
Mottaki said passing the resolution, which indicated the West's double standards, prompted Iran's Foreign Ministry to write critical letters to certain countries that approved the resolution. He also said that Iran has sent letters of appreciation to those countries rejecting the resolution.
Head of Iran's Atomic Energy Organization (AEO) Ali Akbar Salehi said in an exclusive interview with Press TV Friday that Iran saw no logic behind the move and maintained that further sanctions will not make the country bow to Western demands.
"It will not really disturb us to the extent that they think would make us give in to their wishes," he said.
Tehran has maintained that it will continue cooperation with the IAEA, but has also warned that attempts aimed at denying Iran its nuclear rights could reduce the country's cooperation to "a legally mandated minimum," which means it would not venture beyond its legal obligations.
Iran has, however, asserted that despite mounting Western pressure it will not pull out of the Nuclear Non-proliferation Treaty (NPT).