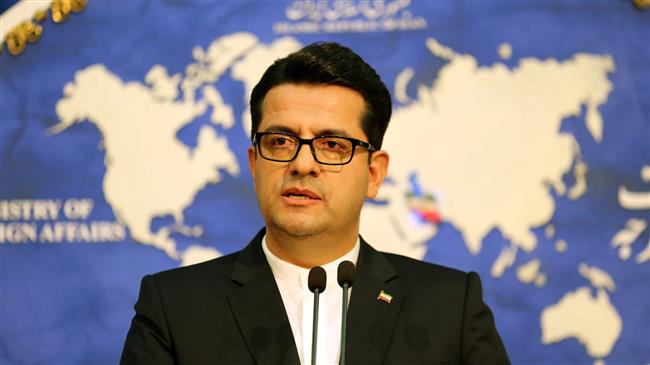 Iran has called on the United States to abandon its destructive policies in the region as Tehran rejects Washington's groundless accusation that the Islamic Republic is behind anti-US protests in Iraq.
Iran's Foreign Ministry spokesman Seyyed Abbas Mousavi made the remark on Tuesday while commenting on the US administration pointing the finger of blame with no rhyme or reason at Iran for recent developments unfolded in Iraq in the aftermath of Washington's military invasion of the Arab country as well as its interference in Iraq's domestic affairs.
US forces on Sunday conducted drone strikes on a number of bases for Kata'ib Hezbollah, which is part of Iraq's Popular Mobilization Units (PMU) known by the Arabic name Hashd al-Sha'abi, in western Anbar province, killing at least 25 individuals and leaving another 51 injured.
The US attack prompted massive public anger in Iraq on Tuesday, with protesters storming the US Embassy in Baghdad and seizing the building after American diplomatic personnel had been forced to evacuate.
"The astonishing insolence of US officials is to such an extent that after massacre of 25 people and wounding a large number of Iraqis and violating Iraq's territorial integrity and national sovereignty, they are now playing a flagrant and unsavory blame game and attribute the Iraqis' protests against those brutal actions to the Islamic Republic of Iran," Mousavi said on Tuesday.
The Iranian Foreign Ministry spokesman called the US claims an "insult" to the Iraqi people, adding that Washington must not expect Iraqis to remain silent over the bloodshed.
The official said, "The Americans have on the one hand, ignored Iraqis' call for independence and on the other, forgotten their role in supporting former dictator Saddam Hussein and the emergence of Daesh terrorist group."
Mousavi also warned American officials against any unpremeditated reaction and called on the White House to rethink about its ruinous policies in the region.