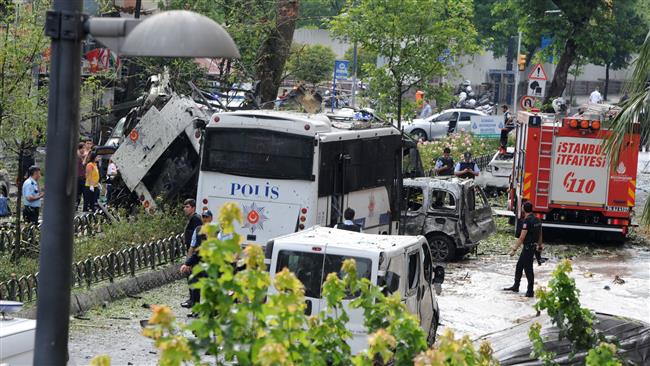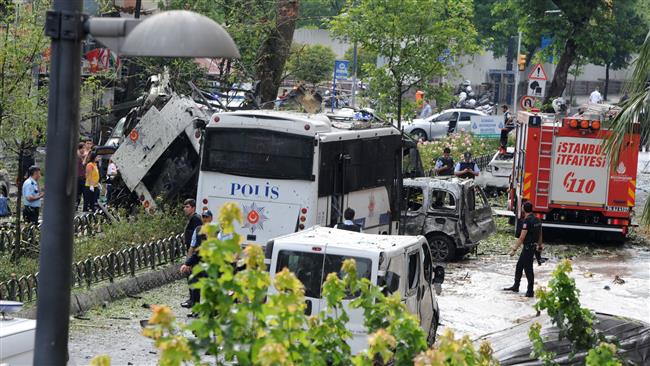 Iran has strongly condemned Tuesday's terrorist bomb blast in the Turkish city of Istanbul, stressing the necessity of a firm international fight against terrorism.
At least 11 people were killed and 36 others injured after a parked car packed with explosives was detonated by remote control in central Istanbul during the morning rush hour as police buses passed on Tuesday.
The area is a commercial hub as well as the location of Istanbul University and is close to key tourist sites like the Grand Bazaar.
Iranian Foreign Ministry Spokesman Hossein Jaberi Ansari on Tuesday offered his condolences to the Turkish government, nation and the families of the victims.
He stressed the importance of a firm and broad campaign by the international community against terrorism and extremism.
There was no immediate claim of responsibility for the bombing but Kurdish militants, Daesh terrorists and radical leftists have all staged attacks in Turkey recently.
Turkish President Recep Tayyip Erdogan visited the scene of the blast saying Terror attacks by the PKK, the Kurdish group fighting the government, is not something new.
Turkey has suffered a spate of bombings this year, including two attacks in tourist areas of Istanbul blamed on Daesh and two car bombings in the capital, Ankara, which were claimed by a Kurdish militant group.