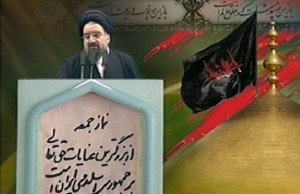 After the Israeli military admitted to harvesting organs from dead Palestinians, a senior Iranian cleric has voiced outrage at Israel's organ theft.
"Zionist [Israeli] media and press have also admitted to this. Stealing organs from the bodies of Palestinians is the business of the usurping Zionist regime," said Tehran's Interim Friday Prayers Leader Seyyed Ahmad Khatami.
Over the weekend, Israel's Channel 2 TV broadcast an interview conducted in 2000 with the then head of Israel's Abu Kabir forensic institute, Dr. Jehuda Hiss who revealed that forensic pathologists harvested organs from corpses, including Palestinian bodies in the 1990s.
The Israeli military confirmed the report but claimed that "This activity ended a decade ago and does not happen any longer."
The cleric pointed to Israel's moves to prevent sending humanitarian aid to the people of the Gaza Strip and said Israel is the worst violator of human rights.
Ayatollah Khatami urged international courts to bring Israeli leaders to trial for their criminal acts.
The Israeli massacre of Palestinians in December 2008-January 2009, which left more than 1,400 Palestinians dead, continues to trigger international disquiet.
A notable high-profile condemnation of the raids came when a UN-commissioned fact-finding mission issued a 575-page report mostly highlighting the Israeli aggression against the people in the beleaguered coastal sliver.
The report documented deliberate targeting of centers, such as schools and mosques, known to be holding Palestinian civilians, by the Israeli army.