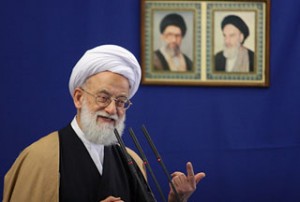 A leading Iranian cleric called on the Iranian nation on Friday to vigilantly confront enemy plots aimed at destabilizing the country.
"The enemy uses every possible means to harm the establishment and the country so we should, in a very real sense, remain vigilant," said Tehran's interim Friday Prayers Leader Ayatollah Mohammad Emami-Kashani.
He added that street demonstrations in protest at the outcome of the presidential election would only benefit the enemy.
Urging the nation and officials to follow the guidance of the Leader of Ummah Imam Ali Khamenei, he called for televised debates to clear ambiguities about the country's current political affairs.