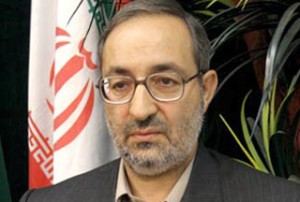 A top official with the Iranian armed forces says certain Western powers are annoyed by Iran's great success in fighting terrorism and capturing terrorist agents.
"Iran's access to technical know-how needed in different industrial fields has thwarted sanctions imposed by arrogant powers and particularly the United States against Iran," Deputy Head of Iran's Armed Forces Headquarters Brigadier-General Seyyed Massoud Jazayeri said on Sunday.
He warned US and British officials that the policy of sanctions "would not be beneficial to them and [quite to the contrary] would harm them."
"Western governments which support terrorism wrongly believe that they can always influence world public opinion through affiliated media," said the senior commander.
"However, it has been proven that criminals and the main sponsors of terrorism and warmongers have never been able to hide their real face forever," he added.
Referring to the recent arrest of the terrorist leader Abdolmalek Rigi by Iranian intelligence forces, Jazayeri confirmed the involvement of certain foreign officials in terrorist acts against the Islamic Republic.
"Disclosure of information about traces of the involvement of certain foreign officials in terrorist acts against Iran has opened a new chapter in international mistrust in Western governments which claim to support human rights," he said.
Rigi was captured by Iranian security forces on February 23. He was aboard a passenger jet flying to Kyrgyzstan from the UAE when his plane was grounded in the Iranian port city of Bandar Abbas.
A few hours after Rigi's arrest, Iranian Intelligence Minister Heidar Moslehi said that the notorious villain was at a US base 24 hours prior to being captured by Iranian forces, adding that the Americans had issued an Afghan passport for him.
In his confessions, Rigi revealed details about his ties with some intelligence agencies such as the CIA and said that he had closely cooperated with the security services of Afghanistan and Pakistan.