Syria
Iran condemns chemical attack by western-backed terrorists in Syria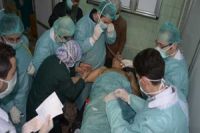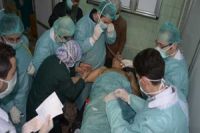 Iran has censured the use of chemical weapons by the western-backed terrorists n Syria as an inhumane act, a flagrant violation of international law and yet another alarm bell for global peace and security.
Speaking before the Executive Council meeting of the Organization for the Prohibition of Chemical Weapons (OPCW) at The Hague on Wednesday, Iran's Permanent Representative to the organization, Kazem Gharib Abadi, held the countries backing the terrorists in Syria responsible for the armed groups' recent use of chemical arms against innocent civilians near the major city of Aleppo.
At least 25 people were killed and 86 others injured after terrorists backed by the West, Arab reactionary regimes, Turkey and Israel, fired missiles containing poisonous gas into Aleppo's Khan al-Assal village on March 19. Women and children were among the victims.
"As the greatest victim of chemical weapons in the past decades, the Islamic Republic has warned on numerous occasions about this issue and the potential access of terrorist groups in Syria to chemical weapons and believes the responsibility of the (terrorist) act falls on the countries that have supported these groups," said the Iranian envoy to the OPCW.
"It is regrettable that 16 years after the convention banning chemical weapons went into effect, we are still witnessing its continued use," he added, emphasizing that "this is a clear indication for the necessity to entirely eradicate chemical weapon arsenals."
In its concluding declaration, the executive council further emphasized that the use of chemical weapons by anyone and under any circumstances is unacceptable and a violation of international regulations.
The council also expressed support for the recently mandated UN investigation into the reported chemical attack in Syria and pleaded with all engaged parties in the country to cooperate toward a successful and safe implementation of the UN probe.
In a Tuesday letter to UN Secretary General Ban Ki-moon, Iran's Foreign Minister Ali Akbar Salehi called for an objective probe of the Syrian incident and emphasized that the terror act represents a major threat to international peace and security and an open violation of global norms.
While calling on the UN to adopt deterrent measures to avert the reoccurrence of such attacks, Salehi reiterated that Iran strongly censures "this inhumane crime" and expects "all governments and international organizations, including the UN, to quickly and clearly condemn this inhumane atrocity."
NATO members, particularly the US, Turkey, Britain, Germany and France, have played an active role in supporting terrorist groups in Syria with military hardware, in addition to what they have deceptively referred to as "nonlethal" aid.
Syria has been experiencing western-backed insurgency since March 2011. Many people, including large numbers of Syrian army and security personnel, have been killed in the violence.