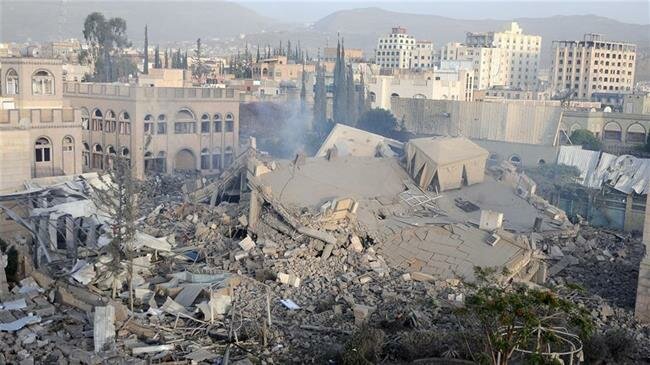 "We urge international bodies and human rights organizations to act according to their responsibilities and stop such crimes from happening again by any means possible," Iran's Foreign Ministry spokesman Seyyed Abbas Mousavi said on Friday.
"Countries which have supported the invading forces in Yemen by giving destructive arms and bombs are complicit in these crimes and must be held accountable," Mousavi added.
At least seven civilians were killed in the Saudi air raids. Four of those died were from one family. Dozens of others were also wounded in the attacks.
The United Nations Office for the Coordination of Humanitarian Affairs later said that five children died as a result of the airstrike.
6 civilians killed in Saudi strikes on Yemen's capitalAt least 6 civilians, including children, are killed in multiple Saudi-led airstrikes on Yemen's capital, Sana'a.
An AFP correspondent reported seeing one residential building completely reduced to rubble, with residents using bare hands in a desperate search for survivors.
The residents chanted "Death to America, death to Israel" as they pulled the body of a child, the AFP reported.
The attack happened days after the United Nations confirmed that Yemen's Houthi Ansarullah movement had handed over control of three key ports in the western province of Hudaydah to the local "coastguard".
The measure took place in line with a UN-brokered truce accord. The UN says the Saudis have not yet implemented their commitment under the agreement.
Saudi Arabia and a number of its regional allies, including the United Arab Emirates, launched the war on Yemen in March 2015, with the goal of bringing the government of ex-president Abd Rabbuh Mansur Hadi back to power.
According to a December 2018 report by the Armed Conflict Location and Event Data Project (ACLED), a nonprofit conflict-research organization, the Saudi-led war has claimed the lives of over 60,000 Yemenis.
The war has also taken a heavy toll on Yemen's infrastructure, destroying hospitals, schools, and factories. The UN said in a report in December 2018 that over 24 million Yemenis were in dire need of humanitarian aid, including 10 million suffering from extreme levels of hunger.
The war led to a major surge of Western arms exports to Saudi Arabia, which depends greatly on foreign arms and military support in the war.
Speaking on Wednesday, spokesman and chief negotiator for Ansarullah Mohammed Abdul-Salam said the Yemeni resistance will target Saudi Arabia's economic infrastructure if the Saudis continue attacks against the war-torn country.
"Strategic Emirati facilities will also be targeted by drone attacks," he said.
Abdul-Salam's statements came a day after the Ansarullah movement conducted a number of successful drone strikes on a vital oil pipeline in Saudi Arabia in response to the kingdom's continued aggression.
The strikes forced Saudi authorities to stop pumping crude oil on a major pipeline spanning the kingdom.
Yemeni drones target vital Saudi facilitiesYemeni forces have conducted a major drone operation deep inside Saudi Arabia.
The attack prompted the state-aligned Saudi newspaper Arab News to call for "surgical" American strikes against Iran.
The paper claimed that the attack represented a "serious escalation" on the part of Iran and what it claimed were "its proxies", a label vehemently denied by the Ansarullah movement.
Yemen: Drone raids on Saudi Arabia had no links to IranThe Houthi movement says Yemen's recent retaliatory drone strikes on a vital oil pipeline in Saudi Arabia were an act of self defense and had nothing to do with Iran.
Nonetheless, the Saudi paper referred to Trump's 2017 and 2018 strikes against Syria as a "precedent" for a similar attack against Iran.
"The next logical step — in this newspaper's view — should be surgical strikes," the paper added.
The Arab News is usually regarded as reflecting the Saudi kingdom's official position on matters.
is a company that has been chaired by sons of King Salman until 2014.
Turki bin Salman al Saud, brother of Saudi Crown Prince Mohammed bin Salman, currently owns the the Saudi Research and Marketing Group that publishes the newspaper.