Iran
Iran defense doctrine based on deterrence: Iranian cmdr.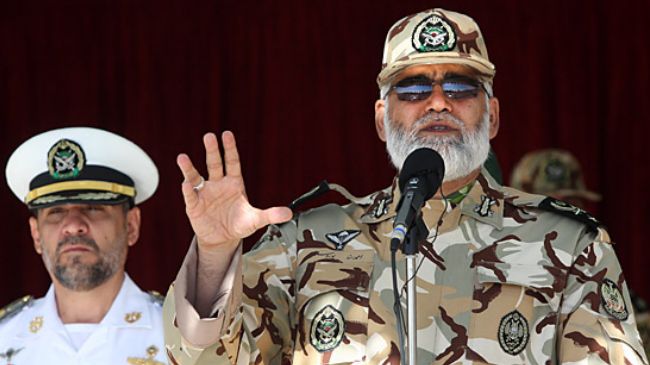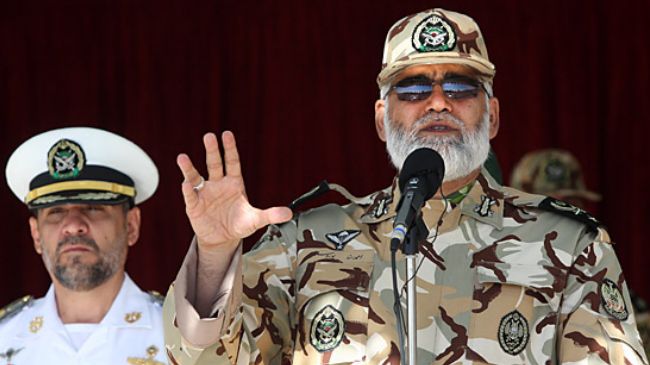 A commander of the Iranian Army's Ground Forces says the country's defense doctrine is based on deterrence, stressing that Iran will be the instigator of war.
"We have never been and will never be the initiator of war," Brigadier General Ahmad-Reza Pourdastan said on Wednesday.
"As the military arms of the [Islamic] establishment, we feel obligated to strengthen our capabilities so that we can face any threats from the ground, air and sea with might so that we can make the enemies sorry for their action," Pourdastan said.
He made the comments in an address to the Iranian Army's elite units during a ceremony commemorating the Sacred Defense Week which marks the 33rd anniversary of the eight-year Iraqi-imposed war of the 1980s.
"In the field of ground defense, the [Army] Ground Forces has, with the help of the defense industry and universities, reached a point where it can improve its existing equipment and design and manufacture new ones based on its doctrines."
The Army's Ground Forces are capable of defending the country's vast borders, said Pourdastan, adding, "We are well familiar with techniques and tactics and know the threats."
The Iranian commander announced on the same day that the Army is set to unveil an indigenous unmanned aerial vehicle (UAV). The remote-controlled aircraft, named Yasir, will be unveiled in an official ceremony on September 28, according to Pourdastan.
In recent years, Iran has secured great accomplishments in its defense sector and attained self-sufficiency in producing essential military equipment and systems.
The Islamic Republic has repeatedly said its military might poses no threat to other countries, insisting that its defense doctrine is based on deterrence.