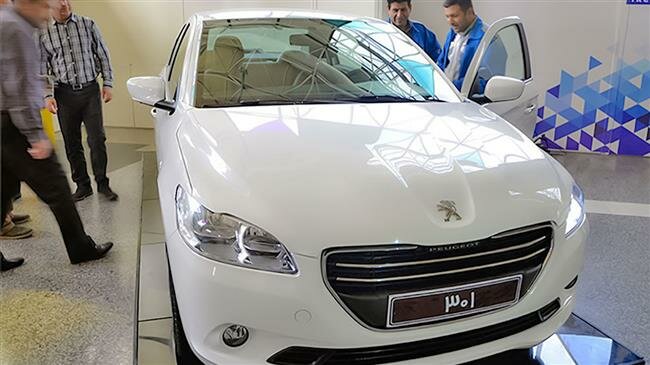 Iran's defense industry is to offer expertise to save a major car project which suffered after France-based company PSA Peugeot Citroën left the country under pressure of sanctions from the United States.
Sources close to the car industry in Iran said on Saturday that the defense sector in the country had become involved in attempts to make electronic parts needed for production of Peugeot 301, a project that stalled three years ago after Peugeot withdrew from its partnership with Iran Khodro Company (IKCO) citing US sanctions on Iran's nuclear program.
"There have been good negotiations with the ministry of defense," said Maziar Bigloo, secretary general of Iran's association of parts makers, adding, "There is good infrastructure in defense industries in production of electronic items like integrated circuits and special transistors …"
Based on a deal signed in January 2016, Peugeot was supposed to invest up to 400 million euros over a five-year period to produce, launch and market three of its models, including the 301, through a joint venture with IKCO.
However, in June same year, the company announced that it would pull out of the partnership due to fears about American sanctions. Iranian officials said at the time that Peugeot would pay compensation to the IKCO for the sudden withdrawal.
Bigloo said Iran was now capable of covering around 80 percent of the knowledge and infrastructure needed for production of Peugeot 301 on its own.
He said companies in the mining sector were also helping the IKCO to produce metals with special alloys that are needed in the manufacturing of the car.
Reports earlier in June suggested the IKCO had begun testing Peugeot 301 on the roads while others said some 3,000 units of the car will be available on the Iranian market as of December with a price tag of around 200 million rials ($15,000).
The IKCO has yet to announce whether it will keep the word Peugeot for the compact sedan despite objections raised by the French company that none of its brand items, including its logo, should be used on he car.