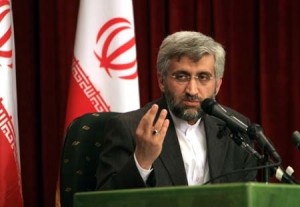 As Iran and the major world powers prepare to hold talks about leading global issues, a top Iranian nuclear official has slammed Germany's support for terrorists.
"We believe that common concerns of the international community about terrorism can be a topic for [bilateral] cooperation," Der Spiegel quoted Saeed Jalili Secretary of Iran's Supreme National Security Council as saying.
"Firstly, we must reach a common definition about terrorism. Following this, areas which are threatened by terrorism will be determined," he added.
Referring to the continued violence which is claiming the lives of civilians in war-ravaged Afghanistan for more than eight years, Jalili stressed the importance of adopting a new and different approach and bring welfare and peace to the Afghan people.
"If NATO sends tractors to Afghanistan instead of tanks, the Afghans will benefit more."
Jalili went on to criticize wrong policies by certain Western countries in Iraq adding that the fight against terrorism in the country is also among other issues for joint cooperation.
"The fight against terrorism in Iraq is an example for mutual cooperation. But there are terrorists in Iraq who are supported by the German government, " Jalili said.
The Iranian official expressed regret that not only "the Germans did not cooperate" in the fight against terrorists, but "provided more support for them".
He said he had asked the German government to cooperate in the anti-terrorism move when he served as Iran's deputy foreign minister. "After three years, they did nothing."
Asked whether Iran would discuss all issues, but its nuclear program during Thursday talks, he said, "We believe that the West has concerns about all topics, but the nuclear issue."
"The West takes no action on disarmament while countries that possess nuclear weapons threaten the world. According to Article VI of the Non-Proliferation Treaty, all the nuclear-weapon-states should draw up a roadmap toward fulfilling their disarmament obligations," Jalili said.
He deplored dual approaches of certain Western states and Germany in particular and said, "If disarmament is a matter of concern, it should be addressed in all aspects."
"However, we witnessed contradictory attitudes. During last week's session of the International Atomic Energy Agency and its Board of Governors, a resolution was ratified on supervision of nuclear activities in the Zionist regime [Israel], but many Western states including Germany opposed it."
After Iran presented its new package of proposals to the five permanent members of the UN Security Council — Russia, China, Britain, France and the US — plus Germany (P5+1), Tehran and the six major powers agreed to hold wide-ranging discussions on global issues as well as Iran's rifts with some Western countries on October 1 in Geneva.
"We believe that all countries should have nuclear energy for peaceful means and no country should possess nuclear weapons," Jalili said.
"We speak about an international disarmament. The United States and Europe should also move in this direction instead of turning into nuclear arsenals," he added.
"The West is concerned about thousands of centrifuges in Iran, but does it feel concerned about the existence of the many arsenals inside its own territory?"
The top nuclear negotiator stressed that nuclear weapons are not legitimate in Iran.
"We believe that nuclear weapons will not bring security to any country. We are resolute to move in line with international disarmament," Jalili concluded.
Iran faces pressure to halt its nuclear enrichment activities, as some Western countries, under pressure from the US and Israel, claim that its program is aimed at building a nuclear bomb.
Tehran, however, has consistently denied seeking nuclear weapons and has called for the dismantling of all weapons of mass destruction across the globe.
Iran says that major powers particularly the US, Britain and France have and continue to deceive the world nations by violating the Non-Proliferation Treaty articles of the last 40 years.
Western countries have a "long-term strategy" and a "hidden agenda" to "destroy and jeopardize the spirit of cooperation between Iran and the IAEA in order to find an excuse and pretext for sanctions and other measures," Iran's Ambassador to the agency Ali-Asghar Soltaniyeh told Press TV.