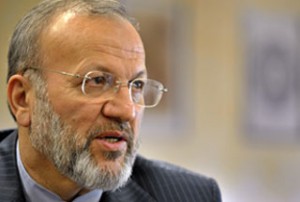 Iranian Foreign Minister Manouchehr Mottaki has criticized India for voting in favor of a recent resolution by the UN nuclear watchdog against Tehran's nuclear program.
"It was not expected that despite cordial relations (between Iran and India) and facts about Iran's nuclear activities, New Delhi would adopt a stance contrary to the Non-Aligned Movement (NAM) and give a yes vote to an anti-Iran resolution by the International Atomic Energy Agency Board of Governors," Mottaki said during a meeting with Indian National Security Advisor M.K. Narayanan in Manama on Saturday.
Last month, the IAEA Board of Governors passed a resolution against Iran over the construction of its Fordo uranium enrichment plant.
While resolutions passed by the IAEA Board generally focus on technical issues — as opposed to political matters — and are usually either passed or rejected unanimously, the November 27 resolution failed to win the support of ten member states.
Iran, a signatory to the Nuclear Non-Proliferation Treaty (NPT) and a member of the International Atomic Energy Agency (IAEA), says its nuclear program only seeks civilian applications of the technology.
India, a member of the Non-Aligned Movement (NAM), voted for the IAEA resolution against Iran while the NAM states on Friday expressed support for Iran's nuclear energy program and rejected the double standards on the nuclear rights of NPT signatories.
They said that all NPT members should enjoy equal rights to nuclear technology.