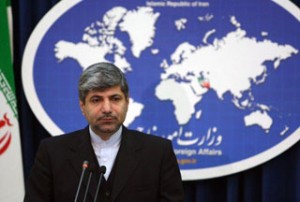 After Iran released the five British nationals who entered Persian Gulf waters by mistake, Tehran moves to criticize the UK's political attitude to the case.
"The issue (of the British yachtsmen) was not a political case at all but the British government made a mistake and intended to adopt a political approach to it," Iranian Foreign Ministry spokesman Ramin Mehmanparast told Mehr News Agency on Wednesday.
"After the arrest of the five Britons in Iran, local officials were set to probe into the case… Investigations showed the sailors had no intention to enter Iranian waters," he added.
On Wednesday, Iran released five British nationals who were detained by the naval forces of Iran's Islamic Revolution Guards Corps (IRGC) after their yacht strayed into southern Persian Gulf waters near Siri island by mistake.
"They were freed after taking the needed written commitments," the IRGC said.
Mehmanparast said that Tehran observes the rights of foreign nationals, adding that Iranian authorities made no comments about the case because it had little significance.
"However, Britain wished to raise the case for political purposes," he said.
The spokesman made the remark after the UK Foreign Secretary David Miliband on Tuesday called on his Iranian counterpart Manouchehr Mottaki to release the five yachtsmen.
Miliband had expressed concern about "the five young yachtsmen and their position, saying, "It's a particularly worrying time for the families".
After the Britons' Wednesday release, the UK Foreign Secretary hailed Tehran for handling the issue in a "professional" way.
"I welcome the fact that this has been dealt with in a professional and straightforward way by the Iranian authorities," Miliband said.
"I think this is just a straightforward matter, it's not a political matter, I don't believe there is any wider significance, but it shows that diplomacy can work," he added.
This is the third time that Iran arrests British nationals on its national waters.
In March 2007, the Iranian forces seized eight British Royal Navy sailors and seven marines for trespassing Iran's territorial waters. They were released the following month.
In a similar incident in 2004, eight British servicemen were detained in the same area but were later freed.
At the time, the Iranian officials confiscated espionage devices from the British nationals.
British Foreign Secretary David Miliband said in a statement on Monday that five British nationals were detained on November 25 in the Persian Gulf after their yacht reportedly trespassed on the Iranian waters. He said the yacht was en route from Bahrain to Dubai.