Iran
Iraq
Middle East
Iran Deplores US' Ambiguous Activities along Iraq-Syria Border
Iranian President Hassan Rouhani denounced the US government's double standards in the war on terrorism, warning of the vague American performance along the common border between Iraq and Syria.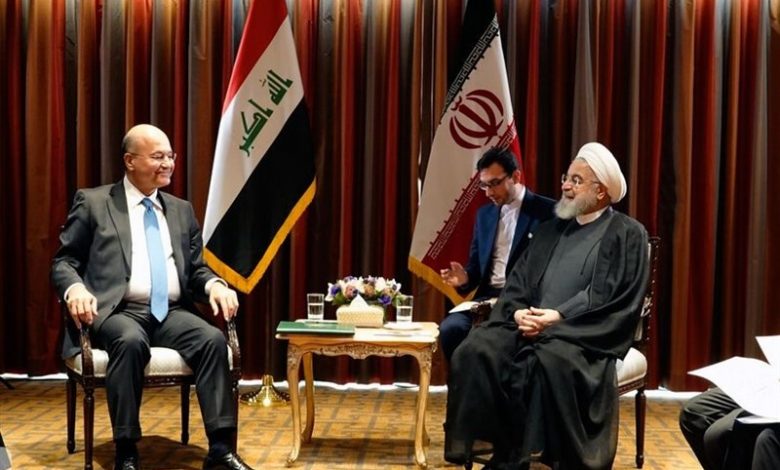 In a telephone conversation with his Iraqi counterpart Barham Salih on Wednesday, Rouhani decried Washington's double standards in the fight against terrorism.
The US' performance at the border regions between Iraq and Syria is vague, he noted, adding, "Americans have always had a destructive role in the region, and the presence of American military forces in the region has not been helpful at all in establishing peace and stability."
Highlighting the significance that Iran attaches to the security and territorial integrity of Iraq, Rouhani said, "We are opposed to any foreign interference in the internal affairs of Iraq and deem it detrimental to that country and the entire region."
Iran maintains that the security of the region should be ensure by the regional states alone, he noted.
Rouhani also called for the immediate implementation of the previous agreements between Iran and Iraq, including a railroad linking Shalamche to Basra, saying the two neighbors have complementary economies and great capacities to boost trade exchanges.
The Iraqi president, for his part, hailed the growing and strategic relations with Iran, saying Baghdad is determined to carry out all agreements with Tehran.
Stressing the need for cooperation among the neighboring countries for the establishment of regional peace and stability, Salih said the Iraqi government is resolved to end the presence of foreign military forces in the country.
He said strategic and constant negotiations have been held with the US about the withdrawal of American forces, adding that the talks will go on until achievement of final results.
In January 2020, Iraqi lawmakers unanimously passed a resolution calling on the government to end all foreign troop presence in Iraq following the US assassination of top Iranian and Iraqi commanders Lt. General Qassem Soleimani and Abu Mahdi al-Muhandis.