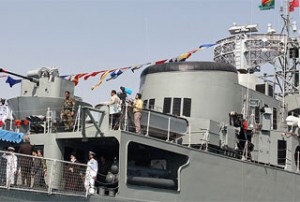 Iran's first locally-made naval destroyer dubbed Jamaran started its first mission in Persian Gulf on Sunday.
"The destroyer has joined Iran's martial units and it started its first mission in southern waters of the country on Sunday," ISNA quoted Fariborz Ghaderpanah, a navy official, as saying.
Iran navy launched the first indigenous destroyer on Friday in a ceremony attended by the Leader of Islamic Ummah Imam Seyyed Ali Khamenei.
The guided-missile destroyer is equipped with anti-ship and surface-to-air missiles as well as torpedoes and naval cannons.
The 94-meter (308-foot) destroyer weighs 1,500 tons and has a helipad and modern radar. The ship has a top speed of 30 knots and can carry 120 to 140 personnel.
Iran has called this achievement as a major technological leap for its naval industries.
The Islamic republic has declared many such advances in its military industries and sciences to demonstrate self-sufficiency.