Iran
Middle East
Iran Destroys International Drug-Trafficking Band
The Iranian Intelligence Ministry disbanded an international drug-trafficking gang in Western country and seized 1,100 kilograms of illicit drugs during the operation.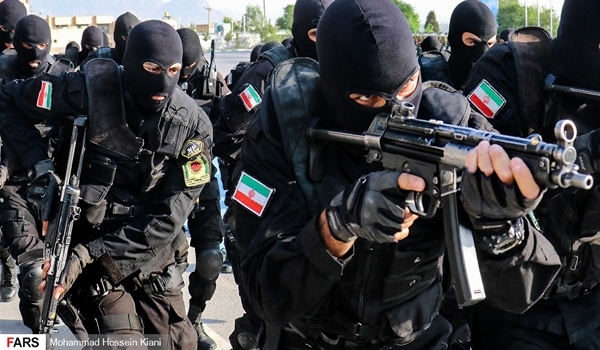 The Intelligence department of Western Azarbaijan province announced in a statement on Saturday that the European ringleader of the band was killed and 7 other members were arrested during an armed clash.
The statement added that the smugglers were trying to transit the drug haul to European countries.
On Thursday, Deputy Commander of Police Law Enforcement Forces Brigadier General Qassem Rezayee said that police forces have managed to seize more than 388 tons of narcotics during 4 months.
Rezayee said that more than 388 tons of different types of illicit drugs have been confiscated in the country in the first four months of Iranian calendar year (started March 20, 2020).
He added that the figure shows a 44% surge compared to the corresponding period last year.
Iranian Ambassador and Permanent Representative to Vienna-Based International Organization Kazzem Qaribabadi said in late June that the country's anti-narcotics campaign is not merely dependent on "fighting", but it also includes other preventive measures.
"Iran has a balanced, intelligent approach in the field of narcotics; the country has put preventive measures and plans to raise awareness about the negative impacts of drug abuse high on its agenda in a bid to reduce the demand for narcotics in the society," Qaribabadi wrote on his Instagram page on June 26 on the occasion of 'International Day Against Drug Abuse and Illicit Trafficking', which is marked on June 26 every year.
"In this vein, more than 1.6 individuals were referred to over 9,000 healthcare centers in the country in the past Iranian year (ended March 19)," he added.
The diplomat stressed that last year, 30 Iranian forces were martyred in 2,319 operations against drug trafficking.
Iran's forces also disbanded over 1,886 drug-trafficking gangs in the past year and seized over 950 tons of various drugs from them, he added.
Tehran has always called for global assistance in these operations, Qaribabadi underlined, noting that others, especially European governments, should take responsibility and play a positive role in this fight or face its threats.