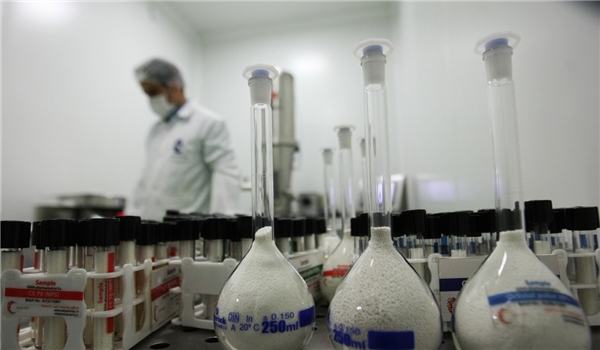 Iran joined the US and Germany as a third state manufacturing two vital cancer drugs and two medicines commonly taken by diabetic patients.
The two cancer drugs which are due to be unveiled in Tehran on Tuesday in the presence of Iranian Vice-President for Science and Technology Sorena Sattari and Health Minister Saeed Namaki are named Regorafenib and Sorafenib.
Regorafenib is an oral multi-kinase inhibitor which targets angiogenic, stromal and oncogenic receptor tyrosine kinase and will be sold in Iran less than 5% of the price of its imported rival products. The drug shows anti-angiogenic activity due to its dual targeted VEGFR2-TIE2 tyrosine kinase inhibition.
Also, Sorafenib is a kinase inhibitor drug licensed for the treatment of primary kidney cancer, advanced primary liver cancer, FLT3-ITD positive AML and radioactive iodine resistant advanced thyroid carcinoma.
Meantime, the two commonly-used Empagliflozin and Dapagliflozin drugs used for diabetes treatment which have been produced by Iranian scientists will be unveiled on Tuesday.
Iran has taken long strides in producing different types of drugs and medical equipment.
Deputy Health Minister for Research and Technology Reza Malekzadeh announced last June that Iranian scientists had produced 22 biological medicine, adding that 97% of the country's needed drugs are manufactured domestically.
"Our scientists have succeeded in the production of 22 biological drugs," Malekzadeh said.
"Also, the capable pharmacists of our country have been able to produce 97% of the medicine needed by the patients inside the country," he added.
Malekzadeh also underlined that cooperation between the Atomic Energy Organization of Iran (AEOI) and the pharmaceutical industry has led the country to approximate independency in the production of different types of radio medicine.
Also, the father of Iran's nuclear medicine underlined in February the country's high capabilities in nuclear medicine, and announced production of the most common drug for cancer treatment by Iran.
"Technetium is a radio medicine which is taken from molybdenum and is the drug with the highest consumption at the world's nuclear medicine centers," Dr. Mohsen Saqari, a Tehran University professor, told FNA.
He added that Iran was able to produce Technetium.
"Iran now exports technetium generator (or colloquially a technetium cow or moly cow, a device used to extract the metastable isotope 99mTc of technetium from a source of decaying molybdenum-99) to many countries and if we can produce molybdenum, we will become fully self-sufficient in this area and of course, today we have had many successes in radio medicine production technology," Saqari said.