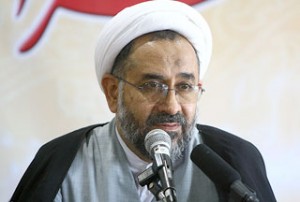 Iran has identified and arrested the members of a terrorist group linked to the September assassination of a senior official in Kordestan Province.
Intelligence Minister Heidar Moslehi told reporters on Wednesday that the group was found responsible for the assassination of Mamousta Sheikholeslam, the representative of the people of Kordestan in Iran's Assembly of Experts.
Sheikholeslam was shot dead on September 19 while he was praying in the Seyyed Qotb mosque in the provincial capital of Sanandaj.
"Through the tireless efforts of Iranian security forces, a terrorist cell guilty of inciting civil unrest and carrying out assassination attempts against senior officials was disbanded on Tuesday," said Moslehi.
Moslehi did not mention the name of the group, but explained that it was founded shortly after the 1979 Islamic Revolution and was based in mountainous areas close to the border with Iraq and Turkey.