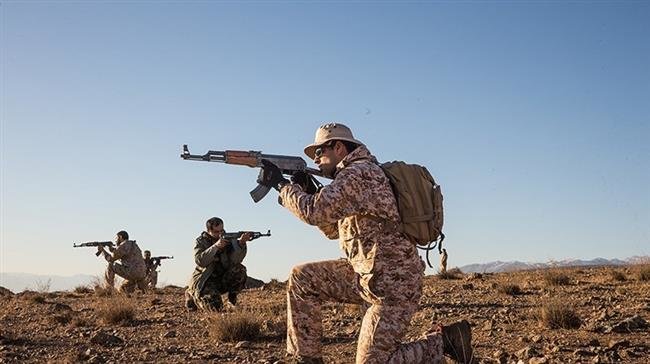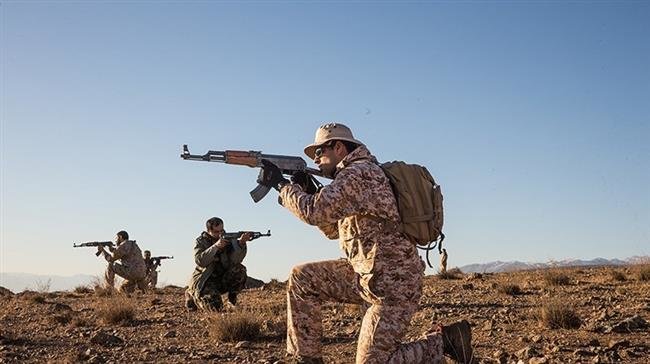 Iran's Islamic Revolution Guards Corps (IRGC) disbands a terror cell in an area on the country's border with Pakistan, killing four terrorists and wounding two others.
The operation was carried out by the Quds Base of the IRGC's Ground Forces in the Saravan border area in the southeastern Iranian province of Sistan and Baluchestan on Friday, the Corps said in a statement.
This came after intelligence operations revealed that the terror group, which was "linked to the global arrogance" intended to attack the Islamic Republic's border posts from Pakistan, the statement added.
The outfit was ambushed and disbanded near one of the posts before managing to carry out any act of terror.
The rest of the terrorists fled deep into Pakistan, the IRGC said, noting that the operation failed to cause any casualties among the defense forces, while resulting in the capture of some weaponry, ammunition, and equipment.
The security forces monitor with alertness whatever movement by terrorist outfits and elements, which are hired by foreign intelligence services and seek to endanger the Iranian nations' security, the statement read.
Such elements would be "dealt with decisively," it concluded.
The IRGC says it maintains the entirety of the country's soil and waters on its intelligence radar to stay prepared in the face of such malicious activities. It has also said it reserves the right to pursue intruders back into the countries they come from.
The decisive confrontation which came earlier followed a terror attack during a military parade in the southwestern Iranian city of Ahvaz on September 22, which killed 22 people.
Leader of the Islamic Revolution Ayatollah Seyyed Ali Khamenei reacted to the tragedy by saying that the terrorist attack was the continuation of plots hatched by "US stooges" in the region to create insecurity in the country. The Leader added that Iran's intelligence services had to swiftly find the accomplices of the "criminals" behind the attack and put them on trial.
President Hassan Rouhani also said the Islamic Republic would give a "crushing" response to the slightest threat against the country.
On September 9, the IRCG confirmed that it has fired seven short-range missiles at a gathering of terrorist commanders in Iraq's semi-autonomous Kurdistan region. It said the operation came following "wicked actions" taken by terrorist groups affiliated with the "global arrogance" from the Kurdistan region against Iran's border areas in the previous months.
Iran's IRCG confirms firing seven short-range missiles at a gathering of terrorists in Iraq's semi-autonomous Kurdistan region.
Last June, the Corps targeted the gatherings of the Takfiri terror group of Daesh in the western Syrian province of Dayr al-Zawr, killing at least 65 Daesh terrorists, including several high-ranking intelligence commanders.