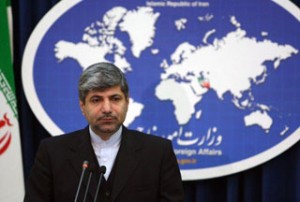 Iranian Foreign Ministry spokesman Ramin Mehman-Parast dismisses the claims by a British daily report on Iran's nuclear program.
On Monday, The Times claimed that it has obtained confidential intelligence documents showing that Iran is working on testing a key final component of a nuclear bomb.
Mehman-Parast dismissed the report as "baseless" and said, "Different countries made such statements to put Iran under political and psychological pressure."
"These remarks are not worthy of attention," he added.
Iran, a signatory to the nuclear Non-Proliferation Treaty (NPT), says its nuclear program is aimed at the civilian applications of the technology and has called for the removal of all weapons of mass destruction across the globe.
The West, however, accuses the country of seeking to develop nuclear weapons. The International Atomic Energy Agency (IAEA), which is continuously monitoring Iran's activities, says there are no evidence to prove West's allegations. It, however, has asked the country to increase its cooperation to remove remaining ambiguities.
In a draft statement issued on Friday, European Union leaders warned that the EU will accompany the UN Security Council in punitive action should Iran fail to provide a 'clear response' to Western demands over its nuclear activities.
The statement comes as the United States, Britain, and France are calling for additional sanctions to be imposed on Iran.
The three countries have been pressuring Iran to accept a UN-backed draft deal, first proposed by the US administration, which requires Iran to send most of its domestically produced low enriched uranium (LEU) abroad to be converted into more refined fuel for the Tehran reactor that produces medical isotopes.
Iran has however called for "concrete guarantees" as some Western countries have previously failed to adhere to their nuclear commitments with regards to Tehran.
Iran's nuclear program was launched in the 1950s with the help of the United States as part of the Atoms for Peace program.
After the 1979 Revolution which toppled Iran's US-backed monarch Mohammad Reza Pahlavi, Western companies working on Iran's program refused to fulfill their obligations even though they had been paid in full.