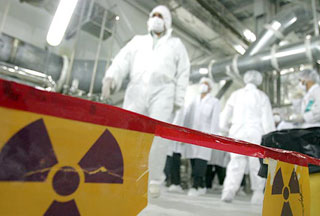 As the West refuses to heed Iran's concerns over their nuclear fuel proposal, a senior Iranian lawmaker says the Islamic Republic prefers to purchase the needed fuel.
"Purchase of uranium enriched to the level of 20 percent is the best option to supply the fuel needed for the Tehran reactor," spokesman of Majlis National Security and Foreign Policy Commission Kazem Jalali told Mehr News Agency.
"Production of 20 percent enriched uranium inside Iran is another option on the table," he added.
Major powers put forward a proposal in Geneva on October 19, suggesting that Iran sends about 70 percent of its low-enriched uranium stockpile out of the country in exchange for metal fuel rods for a Tehran medical research reactor some 15 months later.
Iranian lawmakers rejected the deal after technical studies showed that it would only take two to three months for any country to further enrich the nuclear stockpile and turn it into metal nuclear rods for the Tehran Research Reactor.
Iran then put forward its own proposal that will envisage a two-staged exchange; the International Atomic Energy Agency (IAEA) safeguards nearly one third of Iran's uranium stockpile inside the Iranian territory for the time that it takes to find a supplier.
Tehran says it will deal with any potential seller that is a member of the UN nuclear agency; to deliver uranium enriched to the level of 20 percent to the UN-monitored site.
Jalali said that purchase of the fuel would be a test for the West proving whether it is ready to supply fuel for a reactor which follows only medical purposes.
The lawmaker touched upon Iran's second option to supply the fuel and said, "Iran can enrich uranium inside its territory and turn five percent enriched uranium into uranium enriched to the level of 20 percent under the surveillance of the IAEA."