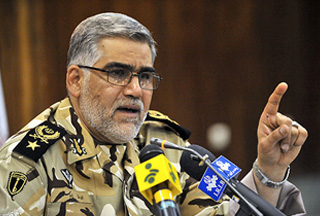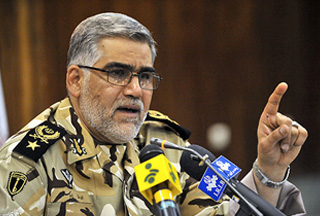 A senior Iranian military commander has shrugged off anti-Iran sanctions, saying the Islamic Republic is equipped with the most advanced military weapons.
"In the defense industry, we are equipped with the most advanced military weapons through our independence and self-sufficiency," IRNA quoted the Commander of Iran's Ground Forces Brig. Gen. Ahmad-Reza Pourdastan as saying on Monday.
On June 9, the UN Security Council imposed a fourth round of sanctions against Iran over its nuclear program, broadening earlier financial and military restrictions.
The new sanctions include the sale of arms to Iran, but the Islamic Republic has stressed that it has reached self-sufficiency in producing the military equipment the country needs.
He said the Iranian youth would strongly counter any threat against the country and added, "They will stop the enemies from making selfish decisions."
He praised the great potentials of Iranian armed forces who defend their country by following the guidelines of the Leader of the Islamic Revolution Ayatollah Seyyed Ali Khamenei.
"Enemies have failed to achieve their goals," he added.