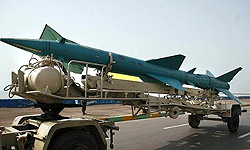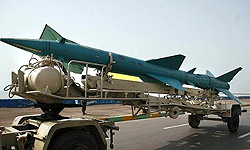 Iranian Defense Minister Brigadier General Ahmad Vahidi announced on Monday that the country has successfully test-fired three new missiles, including the fastest cruise missile in the world.
"We have recently test-fired Shahin and Shalamcheh air-defense missiles successfully and these missiles are now stationed in our air defense units," Vahidi told reporters on the sidelines of the annual military parades held at the mausoleum of the late Imam Khomeini, South of Tehran, to commemorate the national Army Day.
He further added that the country has also successfully test-fired the home-made Zafar missile, and pointed out that Iran's military units will soon be equipped with Zafar missiles which are "the fastest cruise missiles in the world".
"These missiles together with our other systems can remarkably promote the country's air defense power," he noted.
The minister also announced that a large volume of anti-armored ammunitions have been handed to the Army and the Islamic Revolution Guards Corps (IRGC) units to confront enemies' land-based equipments.
Iran commemorated the national Army Day on Monday in special parades held at the mausoleum of the Founder of the Islamic Republic, the late Imam Khomeini.
Iran's new military equipments and achievements went on display during the parades, including the new generation of the Iran-made Zolfaqar tanks, a new canon capable of firing 6,000 bullets per minute as well as new artillery systems.
On Sunday, Iran successfully test-fired two mid-range Hawk missiles named 'Shahin' capable of tracing and targeting aggressive aircraft at low and medium altitudes.
The two Shahin missiles were launched from a home-made air defense system named 'Mersad' on Sunday.
The Mersad air defense shield is a completely indigenized system developed by the Iranian experts and technicians to promote the country's combat power. The system was deployed in all Army air-defense units on Sunday to boost the country's air-defense power.
The Mersad system equipped with Shahin missiles is capable of tracing and targeting any enemy aircrafts at 70 to 150km altitude and is considered as a mid-altitude system among the country's missile defense shields.
Also on Saturday, Iran successfully test-fired its latest air-defense missile system, dubbed as Sayyad 2, and Tehran's defense officials said that the system will be deployed across the country in the near future.
Sayyad 2 air-defense system which has passed the tests in recent days is scheduled to be unveiled in the near future.
Iran had earlier unveiled Sayyad 1 surface-to-air missile which is a two-staged air defense missile that is capable of destroying targets with low Radar Cross Section (RCS) at low and medium altitudes.
The system enjoys the capability to defuse jamming and electronic warfare attacks.
Sayyad 2 is an upgraded version and enjoys higher precision, range and destruction power compared with its previous version.
In January Iran announced that it has successfully tested an optimized version of the mid-range hawk anti-aircraft missiles in an area close to a nuclear facility.
Lieutenant Commander of Khatam ol-Anbia Air Defense Base for Operations Colonel Abolfazl Farmahini announced that the hawk systems optimized by the Iranian experts have undergone warm testing at Khondab nuclear facility near the Central city of Arak and successfully hit their targets.
The commander said that the test was aimed at assessing the level of preparedness of the defense systems deployed in the region to defend Iran's sensitive nuclear facilities.
The commander stressed that Khatam ol-Anbia Air Defense Base conducts such tests regularly to promote the country's defensive capabilities.
In November, Iranian Armed Forces conducted the biggest ever nationwide air drills codenamed 'Defenders of the Sky of Vellayat III'.
Iran's air defense unit has conducted successful tests of different anti-aircraft defense systems, including the anti-cruise Tor-M1 and sophisticated S-200 anti-aircraft missile system.
The Tor-M1 is a short range, mobile air defense system intended for engagement of fixed- and rotary-wing aircraft, UAVs, and cruise missiles flying between medium and very low altitudes even in severe countermeasures environments.
Iran's S-200 system is a very long range, medium-to-high altitude surface-to-air missile (SAM) system designed to defend large areas from bomber attack or other strategic aircrafts. Each battalion has 6 single-rail missile launchers and fire control radar. It can be linked to other, longer-range radar systems.