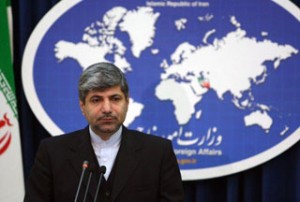 Iranian Foreign Ministry Spokesman Ramin Mehman-Parast clarifies in detail why Iran is seeking a nuclear fuel swap on its own soil.
In an exclusive interview with Iranian Students News Agency (ISNA), Mehman-Parast noted that the preferred option for Iran is to buy the required fuel for its Tehran reactor. He, however, added that his country voiced readiness to swap the fuel, as an alternative option, to show its spirit of cooperation.
"Iran never said it would only exchange fuel. We told [the International Atomic Energy Agency] to provide us with the required fuel, saying that buying fuel is preferable for us."
"But we stated that if, for any reason, some countries say that they don't have the 20 percent fuel at their disposal and it takes time to produce it … we said that we are ready to swap the 3.5 enriched fuel with the 20 percent one to show that we are ready for 'constructive cooperation'," Mehman-Parast added.
Western countries, spearheaded by the US, have been pressuring Iran to accept a UN-backed draft deal which wants Iran to send most of its domestically produced low enriched uranium (LEU) abroad to be converted into more refined fuel for the Tehran reactor that produces medical isotopes.
The spokesman said the potential suppliers consequently said that it would take them one year to further enrich Iran's uranium to the required concentration, the issue which raised Tehran's concern over guarantees that the fuel would eventually reach the country.
Given some Western countries' previous failures to adhere to their nuclear commitments in dealing with Iran, the spokesman said, Tehran then called for concrete guarantees, which were rejected by the West.
He added that since the guarantees were not firm enough, Iran then demanded that the fuel swap, if any, be carried out inside the country.
Mehman-Parast said then the third country option was put forward, where Iran's enriched fuel would be held in the custody of the IAEA, which would monitor the swap.
The question, however, appears that if the UN is capable of monitoring the swap, why the fuel not being exchanged on the Iranian territory under the supervision of the IAEA, Mehman-Parast asked.
"If the agency is capable of monitoring [the whole process], [let's] do it in Iran. The fuel is in IAEA custody but the exchange will be completely carried out in Iran."
The spokesman once again reiterated that Tehran is ready to swap the fuel but only if the West can win back its trust.
"Iran is seeking a reliable guarantee which ensures that the swap would not be one-sided," he said.
Mehman-Parast noted that under the Nuclear Non-proliferation Treaty (NPT), to which Iran is a signatory, the country was entitled to be supplied with the required fuel regardless of whether or not Iran enriches uranium.