Iran
Iran fires Cruise missiles in naval war games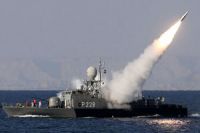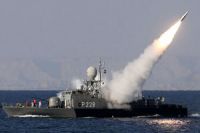 Concurrent with the third day of the Islamic Republic of Iran Army Navy's maneuvers, codenamed "Velayat 91", different types of naval cruise missiles, produced by Iran's Armed Forces were fired at the pre-determined targets.
According to IRIB World Service, the spokesman for these war games, Amir Rastegari, emphasized that different types of anti-ship missiles were fired.
He noted that the used naval cruise missiles throughout the third day of maneuvers maintained a variety of ranges.
The Islamic Republic of Iran Armed Forces are currently equipped with different types of anti-ship missiles.
These six-day naval war games started as of last Friday in east of Strait of Hormoz, Sea of Oman, and north of the Indian Ocean.
In these war games; naval, coastal, aerial, and missile equipment are used and the Iran Army naval forces conduct military and combat exercises.