Iran
Middle East
North America
Iran FM Blasts Anti-Iran Remarks by US "Secretary of Hate"
Iranian Foreign Minister Mohammad Javad Zarif lashed out at US Secretary of State Mike Pompeo for his anti-Iran comments even when the world is engaged in the battle against coronavirus.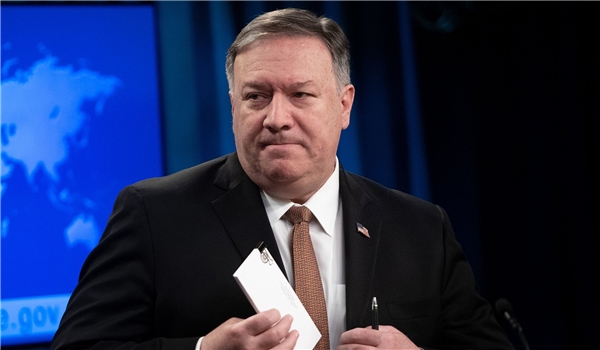 "Even a pandemic won't stop Secretary Pompeo from spouting 3rd-rate propaganda," Zarif wrote on his Twitter page on Wednesday.
"One wonders whether he's Secretary of State or Secretary of Hate," he added.
"No amount of trolling will gloss over his infamous warmongering and economic terrorism, killing innocents and impeding global fight against COVID-19," Zarif said.
His remarks came after Pompeo claimed on his twitter page on Wednesday that instead of inventing reasons to blame the US for what he called as Iranian President Hassan Rouhani government's gross mishandling of coronavirus outbreak in Iran, he can better serve the Iranian people by saying "Yes" to the US offer of humanitarian aid.
President Rouhani had on Monday described the US offer to help Iran fight against the coronavirus epidemic as a big lie as the harshest sanctions against the country are still in place, saying that Tehran does not want Washington's "glass of muddy water".
"We are not in a normal economic situation; sanctions that are cruel, illegal and a terrorist action have been imposed by the US on the Iranian people, and unfortunately many problems have been posed to us," Rouhani said, addressing a cabinet meeting in Tehran.
"Americans' saying we are ready to help Iran through the hardships of coronavirus is one of the great lies of history, as if someone who has blocked the source of the spring and does not let anyone go to the clear spring, brings a glass of muddy water to offer, saying that he has come to help, since he knows we're thirsty," he added.
President Rouhani addressed Washington, saying, "If you want to help, get your boots out of the way; you have blocked the origin, you have troubled our crude sales; you have troubled our banking system for food, for raw materials and for employment; part of the unemployment is because of America, part of the hard life of the people is because of America, part of the lack of working capital for factories is because of America, lack of some medicines is because of America, not having a job and living in a state of extreme crisis for some people is because of America."
"The Americans, who are in charge of the biggest crimes in the region and committed crimes in Iran and terrorism in the true sense of the word, and when their thoughts and underpinnings of their misconduct and terrorism have become more apparent to the world, say we are ready to help in combatting coronavirus. This is the same glass of muddy water, but they do not say that they blocked the main springs on this nation," he said.
The coronavirus COVID-19 is affecting over 195 countries and territories around the world. The virus was first reported in the central Chinese city of Wuhan late last year. It has so far killed more than 21,300 people and infected over 472,000 others globally.
Iran reported on Wednesday that a total number of 2,077 coronavirus patients have died and 27,017 cases of infection have been identified in the country so far. Meanwhile, 9,625 people have also recovered.
The Iranian foreign ministry declared that despite Washington's claims of cooperation to transfer drugs to Iran via the new Swiss-launched payment mechanism, the US is troubling the process amid the coronavirus outbreak in the country.
Although US claims that medicines and medical equipment are not under sanctions, they have practically blocked the transfer of Iran's financial resources in other countries into the Swiss Humanitarian Trade Arrangement (SHTA), Iranian Foreign Ministry Spokesman Seyed Abbas Mousavi said.
As the death toll from the virus surges, Iran intensifies its preventive safety measures. Closures of schools and universities have been extended until early April.
The government also imposed travel restrictions, specially on Iran's north, which is among the red zones. The country has also adopted strict digital health control procedures at airports to spot possible infections.
Health Minister Saeed Namaki announced earlier this month that a new national mobilization plan would be implemented across the country to fight against the coronavirus epidemic and more effectively treat patients.
Namaki said that the plan will include all the 17,000 health centers and the 9,000 medical and clinical centers in all cities, suburban areas and villages.
He added that the plan will include home quarantine, noting that infected people will receive the necessary medicines and advice, but they are asked to stay at home.
Namaki said that people with a more serious condition will stay at the hospitals, adding that the public places will be disinfected, the entries of infected towns and cities will be controlled to diagnose and quarantine the infected cases.
He added that the necessary equipment and facilities have been provided, expressing the hope that the epidemic would be curbed.
Namaki said that the number of medical laboratories to test coronavirus infection has reached 22, and will increase to 40 soon.
The World Health Organization (WHO) says Iran's response to the virus has so far been up to the mark. Still, it says the US sanctions are a big challenge, and Washington would be complicit in the rising death toll in Iran if it would not remove its sanctions.
The World Health Organization has considered priorities in combating coronavirus and Islamic Republic of Iran obeys and follows up priorities as defined by WHO.
The WHO is dispatching separate delegations to all countries.