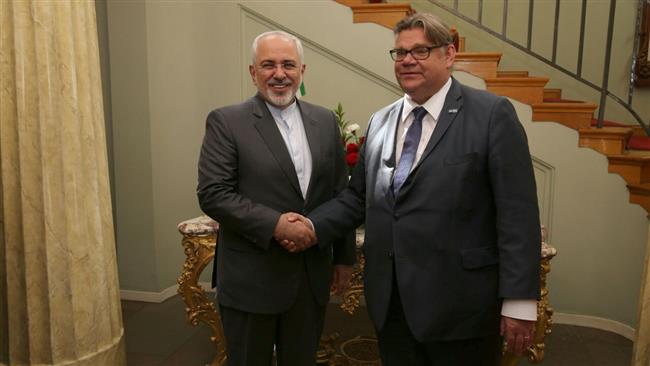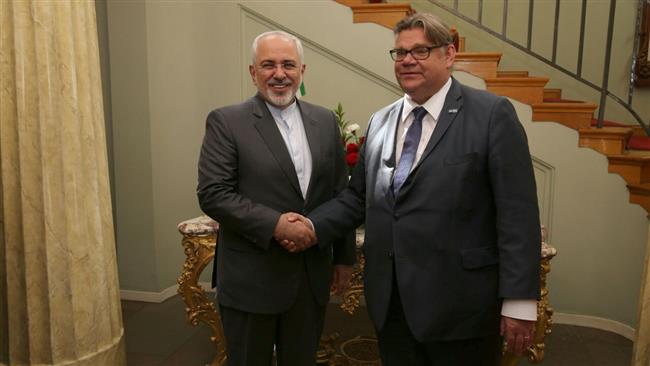 Iranian Foreign Minister Mohammad Javad Zarif says the US should take more steps toward   guaranteeing trade and banking relations with Iran under last year's nuclear agreement between Tehran and the P5+1 group of countries.  
"Certain measures have been carried out by the US to guarantee that banks will not be penalized for trade ties with Iran given the lifting of sanctions after the nuclear agreement but I believe that the US must take more steps," Zarif said at a joint press conference with his Finnish counterpart Timo Soini in Helsinki on Tuesday.
He added that many countries have expressed their keenness to resume trade relations with Iran following the implementation of the Joint Comprehensive Plan of Action (JCPOA) in January.
"Many countries, from South Korea and Japan in Asia to European states, have signed several agreements with Iran," the top Iranian diplomat said.
Zarif added that such agreements have been signed in various economic sectors including banking, "but certain European banks are still concerned that in case of resuming ties with Iran, they will be confronted by the United States of America."
Iran and the five permanent members of the UN Security Council – the United States, France, Britain, China and Russia – plus Germany started implementing the JCPOA on January 16.
Under the deal, all nuclear-related sanctions imposed on Iran by the European Union, the Security Council and the US would be lifted. Iran has, in return, put some limitations on its nuclear activities.
Many large European banks refrain from engaging in transactions with Iran for the fear of US sanctions.
US Secretary of State John Kerry on May 19 met with EU foreign policy chief Federica Mogherini and foreign ministers from France, Germany and the UK in Brussels, where they pledged to encourage companies to resume trade with Iran.
In a statement on the same day, the US, Britain, France and Germany said they were exploring various areas of cooperation with Iran, including the use of exports credits to boost trade, project financing and investment in Iran.
Iran optimistic about ties with Finland: Zarif
Meanwhile, in a meeting with the Finnish foreign minister, Zarif said the implementation of the JCPOA has prepared appropriate ground for the expansion of Tehran's ties with Helsinki.
"The presence of the Iranian economic delegation in this trip is promising for [bilateral] relations," the Iranian minister said.
Soini, for his part, said Iran and Finland enjoy the potential to boost their cooperation in different fields including communications and education.
The top Iranian and Finnish diplomats exchanged views on ways to solve the existing crises in West Asia.
Finland's president invited to Iran
The Iranian foreign minister also held talks with Finland's President Sauli Niinisto in Helsinki on Tuesday about ways to improve bilateral relations and settle the crises in West Asian countries.
During the meeting, Zarif submitted an official invitation by Iranian President Hassan Rouhani to Niinisto for a visit to Iran.
Niinisto expressed hope he would visit Iran in due time.
Iran, Finland should boost parliamentary ties: Zarif
Also on Tuesday, the Iranian foreign minister and Finland's parliament speaker Maria Lohela discussed the expansion of parliamentary cooperation.
Zarif said Tehran and Helsinki is moving on the right course at government, parliament and trade levels.
Lohela, for her part, expressed the Finnish parliament's readiness to strengthen parliamentary relations with Iran.
The Iranian foreign minister also held a separate meeting with former Finnish president Martti Oiva Kalevi Ahtisaari.
Heading a 60-strong politico-economic delegation, Zarif arrived in Helsinki Monday night on the second leg of his official four-nation tour of north European countries after he wrapped up his visit to Poland.