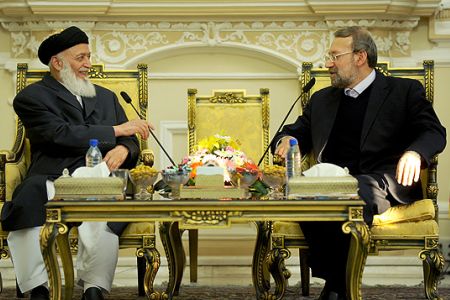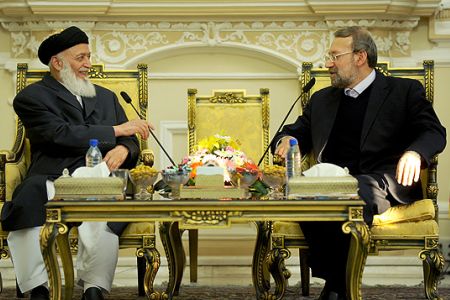 Iranian Parliament Speaker Ali Larijani has expressed the Islamic Republic's resolve to support the Afghan people in the face of problems.
"The Iranian government and nation will stand by the Afghan people against difficulties and pressure," IRNA quoted Larijani as speaking in a meeting with Head of Afghanistan Peace Council Burhanuddin Rabbani in Tehran on Sunday.
"Handing over the responsibility of [domestic] affairs to the Afghan nation…is an important step in bringing stability to this country," Larijani said.
The Iranian Majlis speaker urged foreign powers in Afghanistan to take necessary steps towards handing over the responsibility of the country's internal affairs to the Afghan people.
Larijani pointed to Western efforts to affect the Afghan culture and said the Afghan people would never be influenced by certain moves targeting their religious culture.
Rabbani, for his part, said the presence of foreign powers in Afghanistan has spread terrorism and insecurity.
He further expressed gratitude for Iran's assistance to the Afghan people saying, "The Afghan nation will never forget the assistance and support of Iran."
The peace council chief Rabbani's trip to Iran marks his first visit abroad since his election to the post by Afghan President Hamid Karzai.
The trip signals that Afghanistan relies on Iran as a strategic partner and seeks cooperation with its southeastern neighbor and other regional countries in line with efforts to bring stability to the country.