Iran
Iran Ground Forces to stage 20 major drills by year-end: Commander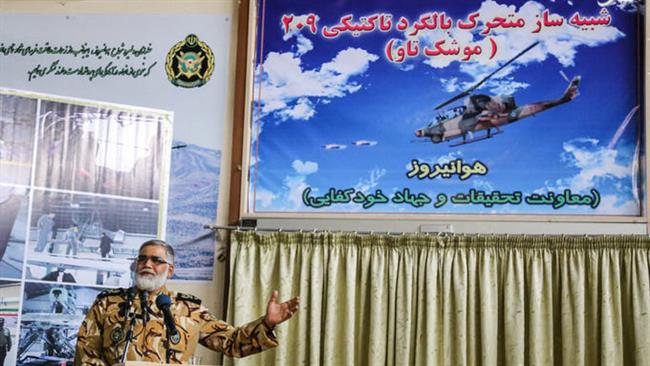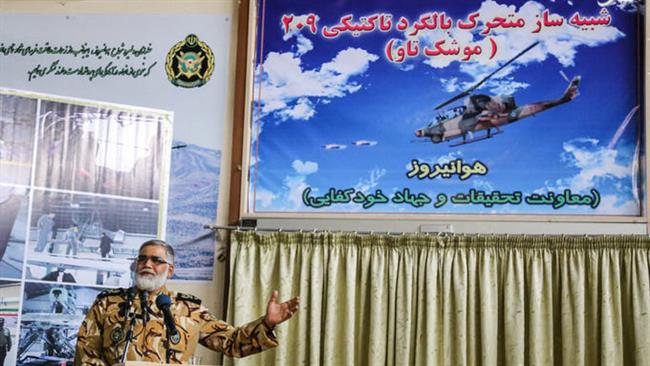 A senior Iranian military commander says the Iranian Army's Ground Forces will stage 20 military maneuvers by the end of the current Iranian calendar year (March 20, 2017).
"We will stage 17 specialized maneuvers and 3 major drills before year-end," Commander of the Iranian Army's Ground Forces Brigadier General Ahmad Reza Pourdastan said on Sunday during a ceremony to unveil a simulator for the 209 tactical helicopter that can fire TOW missiles.
He noted that the first military exercise will be conducted in the southeastern parts of the country and a quick response drill will then be held in western Iran.
Iran's Navy Commander Rear Admiral Habibollah Sayyari also said on July 9 that Iranian naval forces will stage large-scale drills to boost and put on display the country's military prowess.
He noted that the naval forces will stage more than 20 drills before the end of the current Iranian calendar in different areas, adding that the maneuvers will mainly be held in the north of the Indian Ocean.
In recent years, Iran has conducted major military drills to enhance the defense capabilities of its Armed Forces and to test modern military tactics and state-of-the-art army equipment.
The Islamic Republic maintains that its military might poses no threat to other countries, stating that its defense doctrine is merely based on deterrence.
Iran among five countries manufacturing helicopter simulator
Elsewhere in his remarks, Pourdastan said that Iran is among the five countries in the world that can manufacture helicopter simulators.
The Iranian commander added that many helicopter parts are manufactured by Iranian experts inside the country.
He said the Army's Ground Forces have so far been successful in all their missions.
"One of the main missions of the Armed Forces is to maintain defense and military preparedness," Pourdastan pointed out.
"We are facing the threat of proxy wars. Therefore, we monitor all threats and have prepared ourselves to [repel] any threat regarding proxy wars," he added.
Iran has in recent years made major breakthroughs in its defense sector and attained self-sufficiency in producing important military equipment and systems.