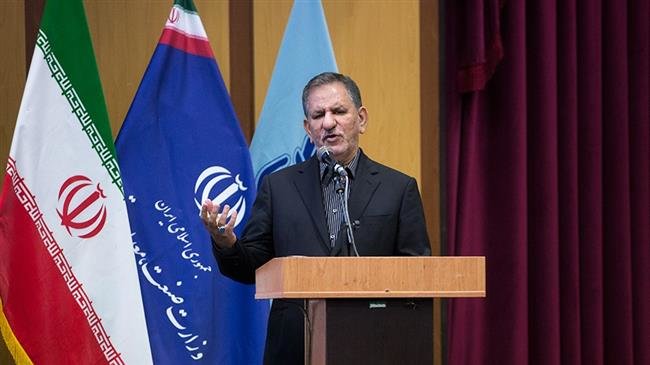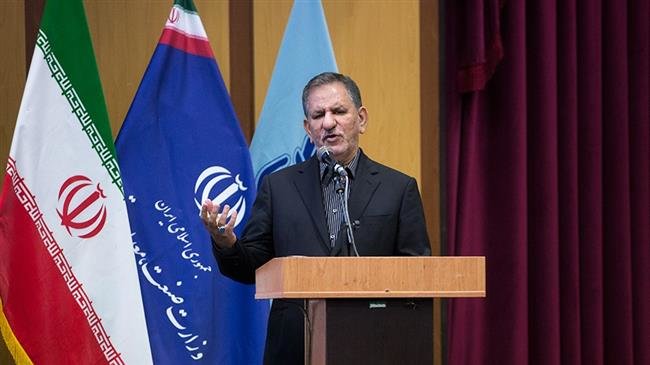 First Vice President Es'haq Jahangiri says the US has failed to fulfill a pledge to cut Iran's crude exports to "zero," and that Tehran's oil sails has remained unaffected by Washington's sanctions to this day.
"The Americans would constantly say 'we would bring Iran's oil sail to zero,' but l have to say that we have been able to sell oil as much we need up until today," Jahangiri said on Tuesday.
The US, he added, was seeking to misrepresent the realities by resorting to a propaganda campaign.
Jahangiri's remarks came one day after the administration of US President Donald Trump unleashed a second round of sanctions against Iran. The punitive measures targeted 700 individuals, banks, aircraft, ships and companies tied to Iran's energy and financial industries.
They came months after Washington scrapped the 2015 Iran nuclear deal, called the Joint Comprehensive Plan of Action (JCPOA), despite international objections.
The first round of the anti-Iran bans – which had been lifted under the accord — had been re-imposed in August.
The Trump administration had earlier vowed to reduce Tehran's oil revenue to zero, but it went back on its pledge and gave waivers to almost all major customers of the country.
The US announces the reimposition of new and strengthened sanctions against Iran in an attempt "to force Tehran to change its behavior to Washington's liking."
Elsewhere in his remarks, Jahangiri said that Americans are bent on harming Iran's economy through waging a psychological war against the Islamic Republic.
He, however, expressed hope that Iran could counter the US's "dominance-seeking polices" as well as its "illegal and immoral measures."
The Iranian official also stressed that Iran's allies are seeking to find a way to defeat US sanctions.
"The Americans have entered the field of sanctions with all their power and capacity, but the important thing is that it (the US) is standing isolated and alone on the world stage," he said.
"We know no government in Europe, Africa and Asia that officially voices support for US sanctions; of course except the Zionist regime and one or two regional countries," Jahangiri added.
Iran has vowed resistance in the face of Washington's economic pressure.
It is now in talks with its other five partners in the deal – France, the UK, Germany, Russia and China – to help keep the international document alive and blunt the impact of the retuning US bans.