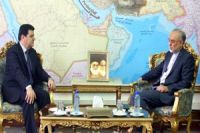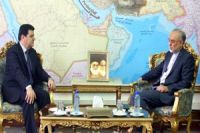 Iran's Foreign Minister Ali Akbar Salehi has expressed hope that the ongoing crisis in Syria would soon be resolved and peace and security would be restored in the Arab country.
According to Press TV, Salehi said in a meeting with Syria's newly-appointed Ambassador to Tehran Adnan Mahmoud on Sunday "We hope Syria's problem would soon be resolved and we would witness peace and stability in the country."
Syria has been experiencing unrest since mid-March 2011. Many people, including large numbers of security personnel, have been killed in the violence.
The Iranian foreign minister also attached importance to the expansion and reinforcement of strategic ties between Tehran and Damascus.
Mahmoud, for his part, lauded the strategic relations between Iran and Syria and expressed hope for the enhancement of the ties between the two countries during his tenure.
During the meeting, Mahmoud also submitted his credentials to the Iranian foreign minister.