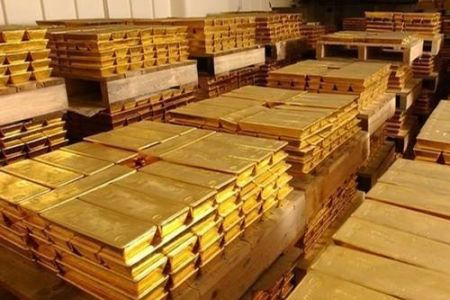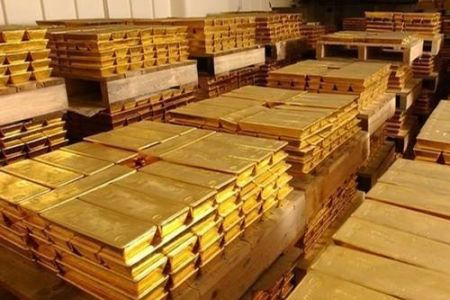 The Central Bank of Iran (CBI) says Tehran has imported "hundreds of tons of gold" and now it is free from importing the precious metal for at least ten years.
"For the next 10 years, there will be no need to import gold. Last year, when the price of each ounce of gold worldwide was on average $656, a few hundred tons of gold were imported," IRNA quoted CBI Governor Mahmoud Bahmani as telling a conference entitled, The Banking System on the Path to Nationwide Development, on Saturday.
"At present, the price of each ounce of gold is $1,230. Consequently, the value of the national reserves has risen by a few billion dollars," he said on Saturday.
The CBI governor further added that Iran has changed 15 percent of its foreign exchange reserves into gold as the number is 1.7 percent for countries such as India and China.
The CBI governor also stated that Iran transferred hard currency deposits that had been kept in certain countries back to the Islamic Republic as a precaution against potential moves to freeze the funds and impose sanctions.
"If we consume 30 tons of gold a year, Iran has gold reserves for the next ten years," he went on to say.
The figures released by Iran's Customs show that the Islamic republic has imported 22 tons of gold worth over $855 million during the first four months of the current Iranian calendar year (started 21) compared with one million dollar in the same period last year. The figure accounts for 4.64 percent of Iran's total value of imports during the mentioned period.
Last week, Bahmani pointed out that the World Bank estimated Iran's foreign exchange reserves at $100 billion.
In August, he said that Iran's foreign exchange reserves had doubled in a short time only through a change in the foreign currency basket.
The economic breakthrough comes despite the West's efforts to put more pressure on the Islamic Republic over its nuclear program.
On June 9, the United Nations ratified a US-engineered resolution imposing new sanctions on Iran over the allegations that Tehran is concealing a clandestine nuclear weapons program.
Tehran has vehemently rejected the allegations of diversion, saying Iran needs nuclear energy to meet its growing domestic demand for electricity.
Iran is a signatory to the Nuclear Non-Proliferation Treaty and thus has the right to enrich uranium to produce fuel.