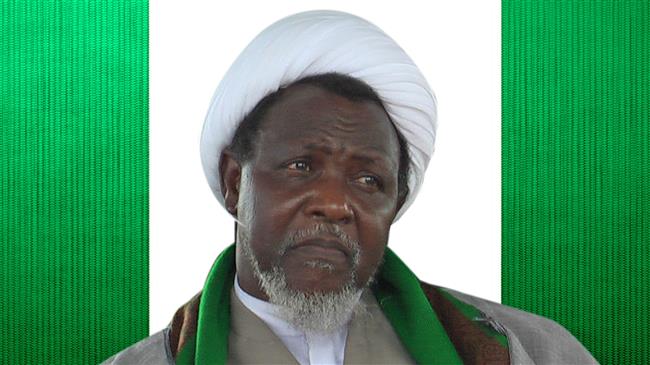 Iranian Foreign Ministry Spokesman Seyed Abbas Mousavi said on Sunday that his country has been continuously involved in negotiations with Nigerian officials to urge Abuja to improve the conditions for Nigeria's top Muslim cleric Sheikh Ibrahim Zakzaky who has been in jail for the past 4 years.
Iran is holding continuous negotiations with the Nigerian government to facilitate improvement of the situation of Nigeria's top Muslim cleric Sheikh Ibrahim Zakzaky, Mousavi said today.
Speaking to reporters, the Iranian diplomat referred to the recent meeting between Iranian Vice President Mohammad Nahavandian and Nigerian President Muhammadu Buhari.
"The two sides spoke of mutual economic relations, regional and international affairs as well as Sheikh Zakzaky in this meeting," Mousavi said.
"The Islamic Republic, in the held meetings with the Nigerian side in Tehran and Abuja, is negotiating Zakzaky issue to follow up the improvement of his conditions," he added.
Back in 2015, Nigerian security forces raided the city of Zaria, during which they detained Sheikh Zakzaky, who is in his mid-sixties. The raid left more than 300 of his followers and three of his sons dead. The Sheikh lost one of his eyes; his wife also sustained serious injuries.
He has been kept in custody along with his wife and a large number of his followers ever since.
A High Court ordered the Department of State Services on Thursday (December 5) to transfer the cleric and his wife, Zinat, to the Correctional Center in Kaduna state, northwest of the country.
Members of the Islamic Movement in Nigeria (IMN) said on Thursday that any attempt to take the couple anywhere other than a hospital will put them in further jeopardy.
The IMN said the facilities at the Kaduna Central Prison are dilapidated, adding that it was the same prison where some survivors of the December 2015 raid perished due to a lack of medical attention.
Earlier this year, the IMN accused the Nigerian government of having poisoned Zakzaky in jail after "large and dangerous quantities of lead and cadmium have been found in his blood".
In August, in an exclusive interview with FNA, Dr. Pourrahim Najafabadi, MD, said Sheikh Zakzaky needs to be cured by an experienced medical team of physicians in a specialized multi-specialty hospital outside Nigeria, since there is no such medical center in the African country.
In September, Tehran's provisional Friday Prayers leader Hojjatoleslam Kazzem Seddiqi blasted the international bodies which claim support for human rights for keeping mum about the dire situation of detained Nigerian cleric Sheikh Ibrahim Zakzaky.