Iran
Iran, Indonesia Stress Broadening of Bilateral Ties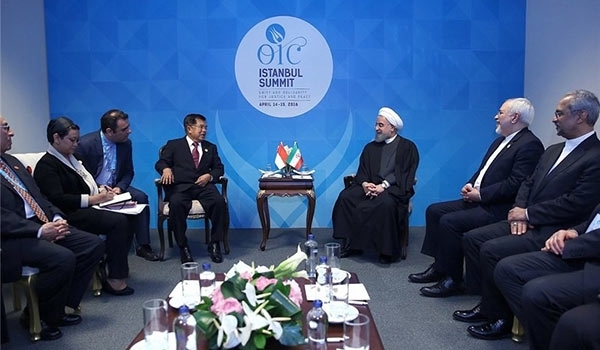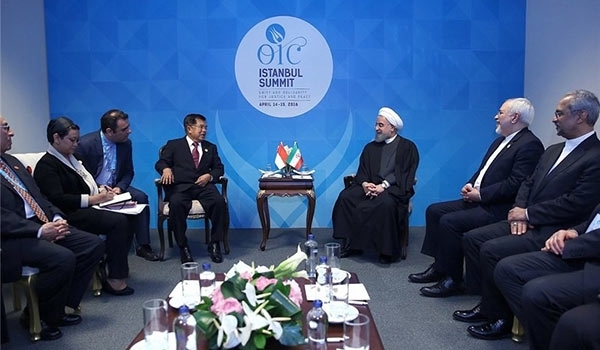 Iranian President Hassan Rouhani and Indonesian Vice-President Muhammad Jusuf Kalla in a meeting in Istanbul on Friday underlined the need for the further expansion of mutual cooperation.
During the meeting on the sidelines of the summit meeting of the Organization of the Islamic Cooperation (OIC) in Istanbul today, President Rouhani and Jusuf Kalla explored avenues for bolstering and reinvigorating bilateral relations.
"The ground is ready for enhanced ties between Iran and Indonesia after removal of anti-Iran sanctions and resumption of banking ties," President Rouhani said.
The Iranian president went on to say that Iran and Indonesia have good potentials for expansion of ties in the fields of energy, industry, tourism, science and research.
He also urged the private sectors of the two countries to boost their ties.
The President praised Indonesia for its efforts in supporting the Palestinian nation and said realization of Palestinian nation's rights is a must for regional stability.
Indonesian vice president, for his part, said Tehran and Jakarta share similar views towards establishment of peaceful relations between Islamic states.
"The big Muslim countries and international organizations like OIC should have a more active role in the fight against terrorism and extremism," he added.
The Indonesian vice-president also said that Indonesia's President Joko Widodo will pay a visit to Tehran in the near future.
In a relevant development earlier this month, Iranian and Indonesian Presidents in a meeting in Jakarta explored different avenues for the further consolidation of relations between the two countries.
Also in June, Indonesian Energy Minister Sudirman Said underlined that his country was keen to increase its long-term crude imports from Iran.
Jakarta is in talks with Tehran for a long-term oil supply deal to meet its rising demand for crude as the country is expanding its refineries," Sudirman said.
He reiterated that his country was waiting for the removal of the western sanctions imposed against Tehran.