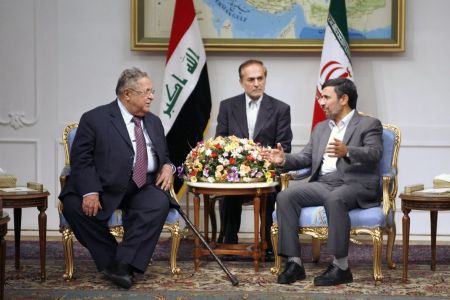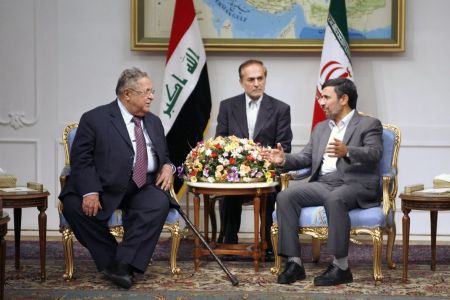 The Iranian president has called for more cooperation between Iran and Iraq, saying that the two can promote peace, justice, and freedom throughout the world.
Mahmoud Ahmadinejad made the remarks on Saturday in a meeting with his visiting Iraqi counterpart Jalal Talabani, IRNA reported.
The Iraqi president arrived in Tehran to attend a ceremony celebrating Nowruz, which marks the beginning of the new year in Iran.
Ahmadinejad praised the increasing ties between Tehran and Baghdad, saying the mutual collaboration is very constructive for both countries.
The Iranian president lauded Nowruz as one of the ways to increase cultural relations among the countries who celebrate the ancient festival.
Talabani, in his turn, voiced his country's interest for long-term and strategic relations with the Islamic Republic.
The two also discussed the latest regional developments, and underlined the important role of the two neighboring nations in the new political structure of the region.
Iran is hosting senior officials from 20 countries at the International Nowruz Celebrations. High-ranking officials from the Persian-speaking states of Tajikistan and Afghanistan will join representatives from the countries that celebrate Nowruz such as Turkmenistan, Azerbaijan, Kazakhstan, Kyrgyzstan, Iraq, Albania, and Turkey.
Kyrgyz First Deputy Prime Minister Omurbek Babanov, Qatari Crown Prince Sheikh Tamim bin Hamad Al Thani and Omani Foreign Minister Youssef bin Alawi bin Abdullah will also attend the event.
According to head of the International Affairs Office for Iran's Cultural Heritage, Handicrafts and Tourism Organization Shahbaz Yazdani, participating officials will discuss opening a permanent Nowruz secretariat.