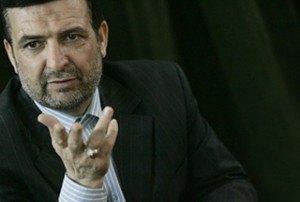 A senior Iranian official has dismissed any diplomatic conflict between Tehran and Baghdad over an oil field in the Fakkeh region.
"Iran and Iraq enjoy amicable and strong relations in all political, economic and trade areas," said the Iranian Ambassador to Iraq, Hassan Kazemi Qomi in a press conference in Baghdad, Mehr News reported.
The Iranian diplomat's remarks came in response to a recent media hype by US and some Arab media outlets which claimed that Iranian soldiers had crossed into the Iraqi territory and seized an Iraqi oil field.
Iran rejected claims that it's armed forces had taken control of an oil well within Iraqi borders, stressing that the well in question is not located on Iraqi soil.
Later comments made by the Iraqi deputy interior minister also confirmed that officials in Baghdad believe that the site is in a disputed area.
"This news is not true. This field is disputed and now it is neglected by both sides. There was no storming of the field, it's empty, it's abandoned, it is exactly on the border between Iraq and Iran," Ahmed Ali al-Khafaji was quoted as saying.
The developments came after some elements inside the Iraqi army erected a barricade next to the No. 4 oil well in Fakkeh. The Iranian forces took down the barricade and returned to their former positions.
The recent media report on the oil field was a prearranged effort by 'external forces' with the aim of straining the friendly relations between the two neighboring states, Kazemi-Qomi added.
"Tehran and Baghdad are in no disagreement, but some media reports and political currents are trying to instigate tension between the two countries," the Iranian diplomat noted.
He said that an arbitration commission is due to be established in order to clear up the misunderstanding between the two countries.
"The Fakkeh oil field is shared by Iran and Iraq and an arbitration commission has been formed between the two countries to resolve the issue," the ambassador said.
The Fakkeh oil field is among many other joint fields that Iran shares with Iraq. The Iranian and Iraqi oil officials have clinched some deals over the past months to develop the joint wells including Paydar, Paydar-Gharb, Naftshahr, Azar, Dehloran and Azadegan.