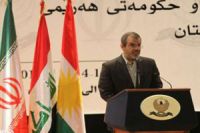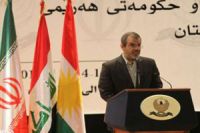 Iran's Ambassador to Baghdad Hassan Danaei-far met on Thursday with a group of Iranian and Iraqi entrepreneurs on expansion of economic and cooperatives cooperation.
According to IRNA, in the meeting, Chairman of Iran's Chamber of Cooperatives Dariush Pakbin briefed the audience on the current status of the market as well as exports potentials of the Iranian cooperatives.
He said Iranian cooperatives and unions play significant role in promotion of export of non-oil products to world markets.
Referring to active presence of his chamber in Iraqi Kurdestan, he said bilateral trade exchanges could be increased through easing the existing red-tapes.
The Iranian ambassador to Iraq, for his part said Iraq is now exporting 2,600,000 barrels of cured oil a day.
He said Iraq's free economy has created a suitable room for the country's exporters to play key roles in the world markets and the opportunity should be seized by Iranian companies to present their products to that country.
Danaei-far said Iran's exports to Iraq worth some dlrs 11 billion last year and the figure is expected to exceed dlrs 12 billion this year.