Iran
Iraq
Middle East
Iran, Iraq to Conduct Joint Investigation into Gen. Soleimani's Assassination
Iran and Iraq are determined to launch extensive investigation into the US assassination of Lieutenant General Qassem Soleimani who was martyred by terrorist forces of the American Army during an official visit to Baghdad.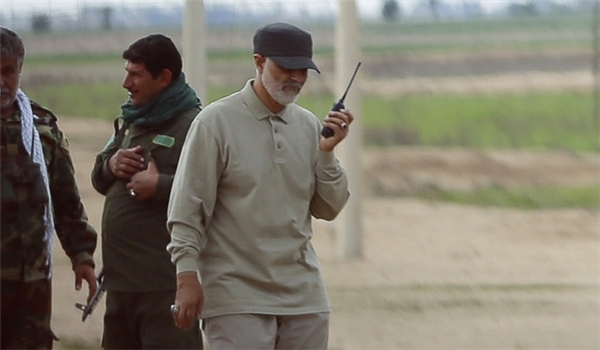 A visiting Iraqi judicial delegation agreed on Sunday with an offer by Iran on forming a joint committee for inquiry into the case of the US terrorist attack against General Soleimani on January 3.
Senior Iraqi judicial officials met with Deputy Iranian Minister of Justice On Human Rights and International Affairs Mahmoud Abbasi in Tehran on Sunday.
They discussed further expansion of bilateral cooperation.
The Iranian side said that the Iranian government and nation have always stood by the Iraqis during tough times, including in the fight against terrorism.
Abbasi said that Iran has paid heavy human costs for supporting Baghdad government and the Iraqi nation, an example of which was the assassination of General Soleimani, the commander of Quds Force of Islamic Revolution's Guards Corps, and Abu Mahdi al-Mohandes, the acting commander of the Iraqi Popular Mobilization Units (PMU).
He said that the assassination of General Soleimani by US drones in Baghdad while the Iranian general was officially visiting Iraq as a sovereign country constitutes an international crime in contravention of the UN Charter guaranteeing sovereignty of states.
Iran and Iraq would take the US terrorist attack against commanders of the two sovereign states to the International Court of Justice, the official said.
General Soleimani and Abu Mahdi al-Mohandes were killed at a US drone attack near Baghdad airport on January 3 along with eight other people.
The terrorist attack was carried out following a direct order by US President Donald Trump.
Five Iranian and five Iraqi militaries were martyred by missiles fired by the US drone at Baghdad International Airport.
On January 8, the IRGC Aerospace Force started heavy ballistic missile attacks on US Ein Al-Assad airbase in Southwestern Iraq near the border with Syria and a US operated airbase in Erbil in retaliation for the US assassination of General Soleimani.
Ein Al-Assad is an airbase with a 4km runway at 188m altitude from sea levels, which is the main and the largest US airbase in Iraq. Early reports said the radar systems and missile defense shields in Ein Al-Assad failed to operate and intercept the Iranian missiles. Unofficial reports said the US army's central radar systems at Ein Al-Assad had been jammed by electronic warfare.
The second IRGC reprisal attack targeted a US military base near Erbil airport in Iraqi Kurdistan Region in the second leg of "Martyr Soleimani" reprisal operation.
Iraq said the attacks had not taken any toll from its army men stationed at these two bases. The US army had blocked entrance into Ein Al-Assad to everyone, including the Iraqi army.
It was the first direct attack on the US army ever since the WWII.
The IRGC officials said none of the missiles had been intercepted.