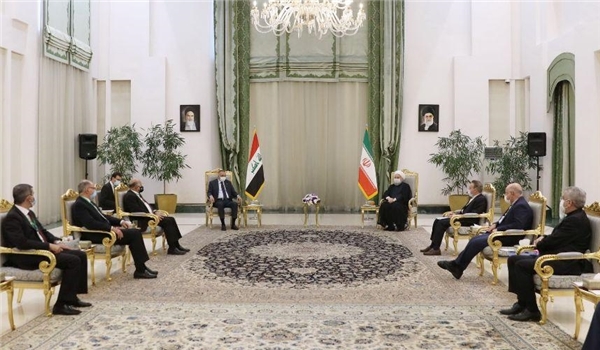 Director-General of the Central Bank of Iran (CBI) for International Affairs Hamid Qanbari announced further expansion of cooperation between Tehran and Baghdad in foreign currency and banking fields.
Qanbari, who had traveled to Iraq along with Iranian Foreign Minister Mohammad Javad Zarif on Sunday, said that "useful and constructive talks" were held with the Iraqi side whose results will be finalized during the upcoming visit by Iraqi Prime Minister Mustafa al-Khadhimi to Tehran.
"It is expected that a considerable volume of foreign currency, several billions of dollars, will enter the (Iranian) market and a major part of demands for foreign currency will be met in case of materialization of the agreement," he said on Tuesday.
Chairman of Iran-Iraq Joint Chamber of Commerce Yahya Al-e Es'haq said on Tuesday that the two countries are seeking to attain $20 billion worth of bilateral trade exchanges.
He pointed to the visit of Iraqi Prime Minister Mustafa al-Kadhimi to Iran today, and said, "The visit of Iraqi prime minister to Iran will play a very constructive and important role in developing and strengthening trade ties between the two neighboring countries."
During the Iraqi prime minister's visit to Iran, planning to reach the horizon of $20 billion bilateral trade between Iran and Iraq will also be discussed, Al-e Es'haq added.
He further noted that economic issues will include a major part of the Iraqi prime minister's visit to the Islamic Republic of Iran.
Iraq's debt to Iran on importing electricity and energy will be the other important issues that will be discussed between Iranian and Iraqi officials, he said, adding, "Agreements have already been made on the repayment of Iraq's about $3 billion debt to the Islamic Republic of Iran, which is gradually being implemented, and during this trip, its payment system will be examined clearly."