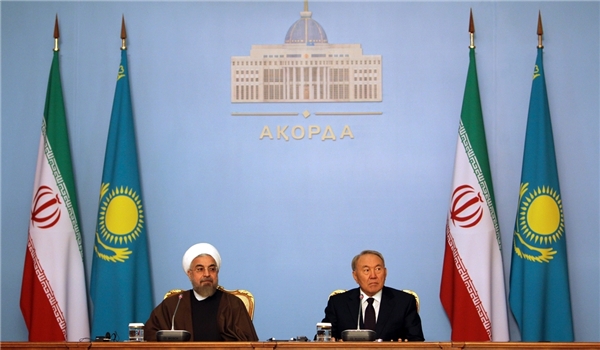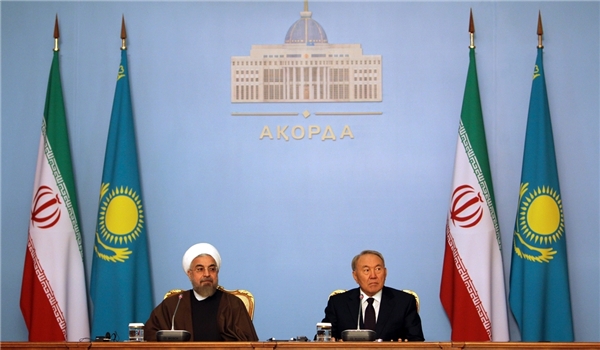 Iranian and Kazakh officials in a meeting in Astana on Tuesday signed several cooperation agreements in different areas.
The agreements were signed during a ceremony attended by Iranian President Hassan Rouhani and his Kazakh counterpart Nursultan Nazarbayev in Kazakhstan's capital today.
The cooperation pacts covered a wide range of areas, including international transportation, trade, industry and five-year cooperation between the two countries' foreign ministries.
Earlier today, the Kazakh president underlined that President Rouhani's visit to Astana should be seen as a milestone in the expansion of the relations between the two countries.
"A new chapter will open in bilateral ties between Astana and Tehran by President Hassan Rouhani's visit to Kazakhstan," Nazarbayev said after meeting President Rouhani in Astana on Tuesday.
He also described President Rouhani's visit and his meetings with high-ranking Kazakh officials as well as the joint meeting of the two countries' traders and businessmen as a proper opportunity for consolidating the relations between the two countries.
"Kazakhstan sees the Islamic Republic of Iran as an important partner in the world and a good neighbor in the Caspian Sea region," Nazarbayev said, and added, "We are rest assured that the nuclear negotiations (between Iran and the world powers) will yield the desired results and this will have positive effects on the development of Iran's economy and the relations between Tehran and Astana."
He also expressed regret over the decreased volume of goods exchanges between the two countries in recent years, and said, "The statistical figures of the current year are promising (in this regard) and this trend should continue."
Noting that he has discussed issues related to oil, gas and agricultural cooperation between the two countries and other fundamental issues in the meeting with President Rouhani, he said that the joint cooperation commissions of both states will be ordered to pursue the implementation of agreements.