Latin America
Iran
Middle East
World News
Iran keen to expand ties with Latin America, especially Venezuela: President Raeisi
Iranian President Ebrahim Raeisi has hailed Iran-Venezuela ties as expanding and friendly, saying Tehran is determined to boost its relations with developing countries, especially nations that seek to maintain their independence.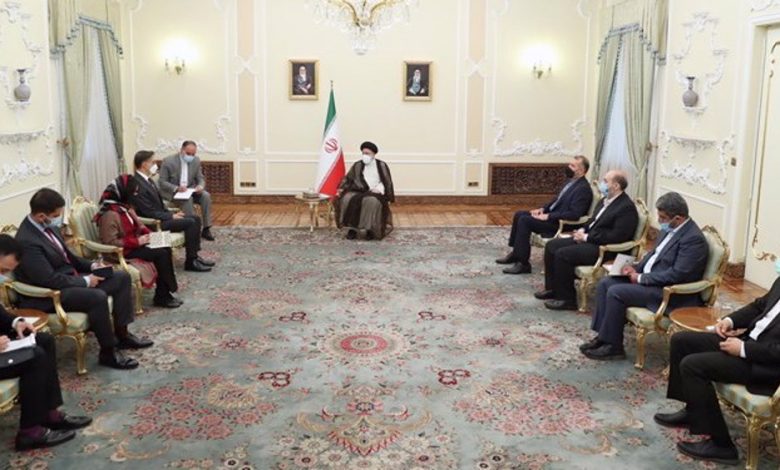 "Latin America, especially Venezuela, is on the top of the Islamic Republic's economic, diplomatic priorities, and we are determined to expand our ties with these countries," Raeisi said during a meeting with Venezuelan Foreign Minister Felix Plasencia in Tehran on Monday.
The Iranian president stressed the necessity of expanding Tehran-Caracas ties in different fields, and emphasized the importance of having "a clear and long-term plan" in order to strengthen the bilateral ties to their maximum.
Raeisi expressed hope that "new steps" would be taken towards long-term cooperation between the two countries during the upcoming visit of Venezuelan President Nicolas Maduro to Tehran.
For his part, Plasencia described Iran and Venezuela as friends, saying the two countries are united against hegemony and "those who want to harm our independence."
He stressed that Iran is "a significant and influential" country in the Middle East, saying "Venezuela, alongside Tehran, is committed to defending multilateralism and countering US intervention."
Plasencia also emphasized the importance of strengthening bilateral relations between Tehran and Caracas, saying a long-term plan for mutual cooperation is "effective" in achieving that goal.
Earlier on Monday, Iranian Foreign Minister Hossein Amir-Abdollahian said that Maduro will visit Tehran in the coming months, adding Iran and Venezuela are set to sign a 20-year cooperation agreement during the visit.
During a press conference with his Venezuelan counterpart in Tehran, Amir-Abdollahian said Iran and Venezuela have reached good cooperation agreements in various fields over the past years, adding that "a significant part of which is being implemented".
He also slammed the US policies towards Venezuela as non-constructive.
US economic sanctions on Venezuela have plunged the oil-rich nation into poverty, with a majority of the population grappling with lack of access to basic needs, gasoline shortage and frequent power cuts. The dire conditions have prompted millions of Venezuelans seeking better living conditions to move to other countries.