Iran
Iran keen to forge good ties with all neighbors: Rouhani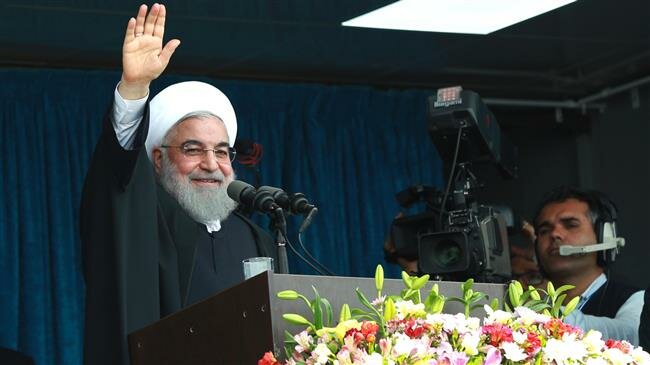 President Hassan Rouhani says Iran is ready to establish good relations with all its neighboring countries with an objective of advancing the region's interests.
"We are keen to have a good relationship with all our neighbors," President Rouhani said in an address to a large crowd of people in the southwestern city of Bushehr on Sunday.
He said that even if there were strains in the ties between the Islamic Republic and some of its neighbors, they had been initiated by the opposite side.
"We have a good relationship with our neighbors, including Qatar, Oman, Turkey, Azerbaijan, Turkmenistan, Afghanistan, and Pakistan, and we want such a relationship to exist between us and all of our neighbors," he added.
Rouhani said it didn't matter for Iran whether countries were Shia-majority or Sunni-majority or whether they were located north of the Persian Gulf or to its south. "Our goal must be the development of the entire region."
He said that in spite of attempts by the US, Israel and "some reactionary regional countries" to exert pressure on the Iranian nation, Iran would continue on its path and develop better relations with its neighbors day by day.
The Iranian president further referred to his recent visit to Iraq and hailed Tehran-Baghdad ties as "exemplary."
He added that good bilateral agreements had been reached during his trip to Iraq.
Heading a high-ranking delegation, Rouhani visited Iraq on March 11-13, which featured several meetings and the signing of memorandums of understanding for the expansion of bilateral relations in various fields.
Elsewhere in his address, Rouhani said that although enemies could create problems for the Iranians people, they could not bring the "brave and resistant" nation to its knees.
"We all know that our enemies have over the past year employed all their capabilities to exert pressure on the Iranian people, hoping to drive a wedge between the people of Iran and the establishment…, but the people have endured the difficulties and have responded to the enemies of their land with a resounding 'no,'" President Rouhani said.
Last year, US President Donald Trump unilaterally pulled Washington out of a multilateral nuclear deal with Iran and imposed sanctions against Tehran despite international objections. While that withdrawal has caused certain problems for Iran, the administration of President Rouhani is working — including with international partners — to offset the adverse effects.
Meanwhile, Rouhani is expected to inaugurate four development phases at South Pars, the world's largest gas field located in the Persian Gulf, later on Sunday.