Iran
Iran marks National Nuclear Technology Day, unveils nuclear achievements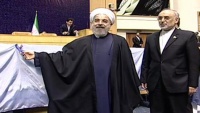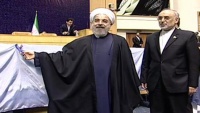 Iran marked National Nuclear Technology Day, with President Hassan Rouhani unveiled the country's latest nuclear achievements at a ceremony in Tehran.
According to Press TV, Rouhani delivered an address in the ceremony on Thursday.
Rouhani said a statement was not Iran's only achievement in the nuclear talks with the 5+1 group but the Islamic Republic's main gain was the fact that US President Barack Obama acknowledged that the people of Iran will not surrender to bullying, sanctions and threats.
The Iranian president said this is a triumph for our country that the first military power in the world admits this fact.
The Iranian president pledged that all the sanctions on Iran would be removed upon the first day of the implementation of a nuclear deal with the 5+1 group.
He said the Iranian nation has been and will be the victor in the negotiations.
Elsewhere, Rouhani said the Iran seeks constructive interaction with the rest of the world.
Pointing to the Saudi air strikes in Yemen, Rouhani said "Nations will not surrender to bombardment." He said the future of Yemen will be determined by its people alone.
He called on the other world nations to adopt the path of moderation as well. Head of the Atomic Energy Organization of Iran Ali Akbar Salehi also gave a speech prior to Rouhani.